THE VIRTUAL SPECIALTY 2007
CHAMPION CLASS Dogs & Bitches
Judge Mrs Jocelyne Gagne
The champions presented were all definitely worthy of their titles. Thank you for offering them for review.
It was definitely a pleasure to evaluate this class. Such typical hounds; all 5 were great examples of the breed, in my humble opinion.
I did however have to choose between them, and ranked them as follows: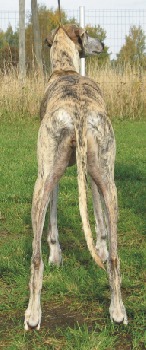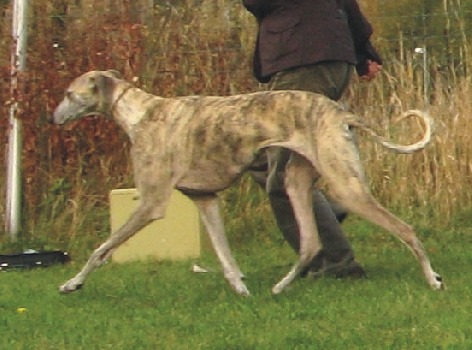 Photos taken September 30 2007 © Puomila 2007
Finnish Ch. Al Suwiid Aylin Djadhaba, Bitch, born March 13, 2004, Sweden
(Multi Ch. Tillieville Zalute x Multi Ch. Rahina el Bahia de la Cite du Guerrier)
Owner: Pia Puomila (La'Jahibbu), Finland
Breeder: Tiina Wallgren, Sweden
What a beautiful bitch. She has lovely quality presenting with a very typical shape of long legs and short coupled body. A bitch with obvious presence and incredible movement. Great reach and drive and excellent foot timing. She has a gorgeous head! Matched with a long, functional neck well in proportion to her body. A solid bitch who looks like she can do her job and yet is feminine in appearance. Totally balanced and typical even in the finer points of the breed. If I could take one dog home, this would be the one. BEST OF BREED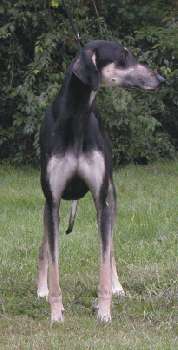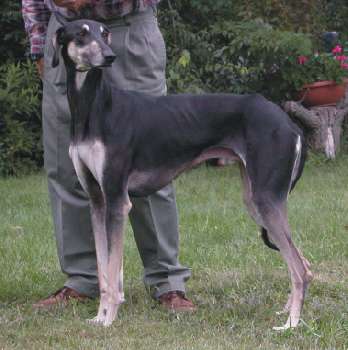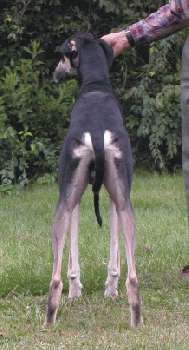 all photos September 16 2007© de Caprona 2007
IABCA International & Honor Champion O'Dah Shi'Rayan, SGRC, Dog, born June 1, 2004, USA
(Bi-Na Mahanajim, GRC x Ch. Ibtsama Haifa Shi'Rayan, GRC, FCh)
Owner: Dr. Bernd Fritzsch
Breeder: Dr. Dominique Crapon de Caprona
An impressive and handsome male. What a great outline, so typical of the shape you want to see. Good balance with front and rear quarters. Slightly steep in the croup. He is well proportioned and on the move is just incredible. Uses it all to his advantage. His head is typical, with good planes, minimal stop, correct shape with the right expression. Ears are perhaps a shade too long. Has a very impressive bearing and presence. Truly a masculine and functional hound, without any coarseness. BEST OF OPPOSITE SEX.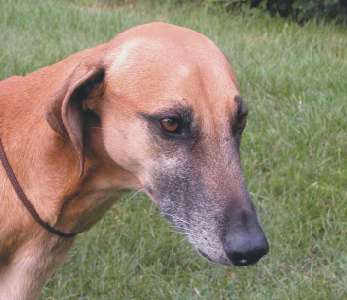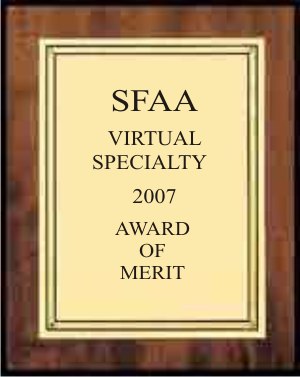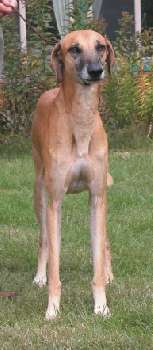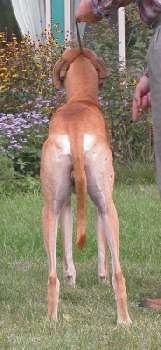 Photos taken September 16 2007 © de Caprona 2007
IABCA International Ch. Jaah Shi'Rayan, GRC, Dog, born November 2, 2000 USA
(Multi Ch. BISS Fa'iq Shi'Rayan, GRC x Ramla)
Breeder and Owner: Dr.Dominique Crapon de Caprona, USA
Nice red boy. Lovely shape. In terms of his outline, just a little too much rise in the loin. He does have lovely angulation and is nicely balanced, and this is reflected on the move, as he has lovely reach and drive with great foot timing. Doesn't want to hold his ears properly. Not the presence of the Breed or Opposite dogs… but a close contender based on his outline, typical shape and movement. (BEST AFRICAN)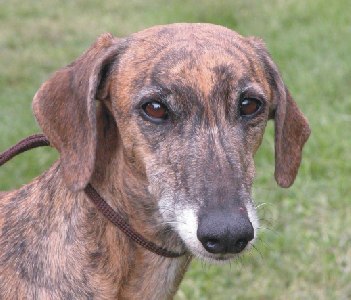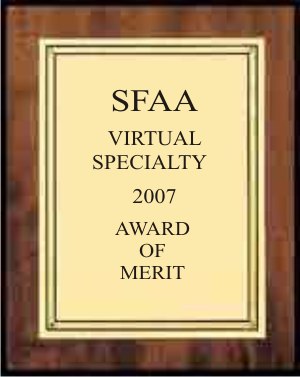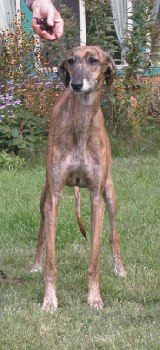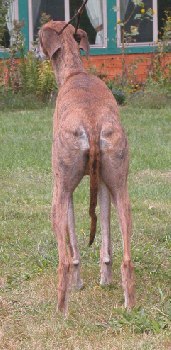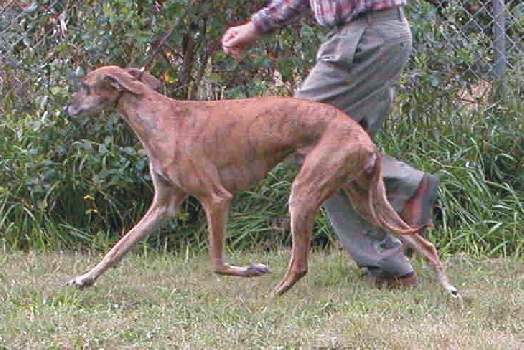 all photos September 16 2007© de Caprona 2007
FCI International, Puerto Rican, Latin American Ch Laza Shi'Rayan, GRC, Bitch, born February 2, 2001, USA
(BISS Ch. Ghali Shi'Rayan x Multi Ch. Bouthayna Shi'Rayan, FCM, GRC, SORC)
Owner & Breeder: Dr. Dominique Crapon de Caprona
A lovely bitch, not as balanced as her competition. She has moderate angulation. A little too steep in the croup. This bitch has nice lines, smooth curves throughout without exaggeration, and a lovely expression. Incredible reach and drive on the move which demonstrates that she uses all of her attributes. The movement photo looks lovely, but I can't tell if is a smooth gait.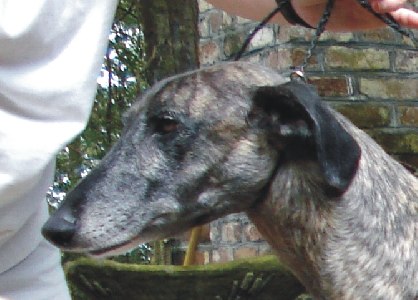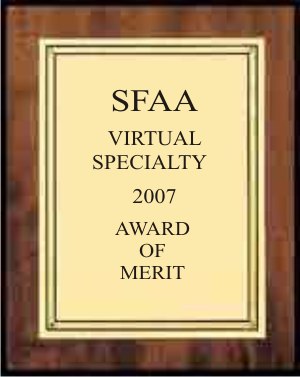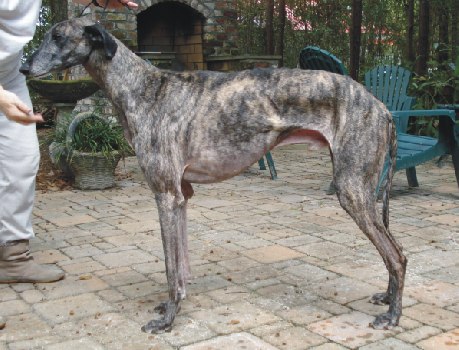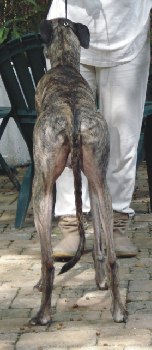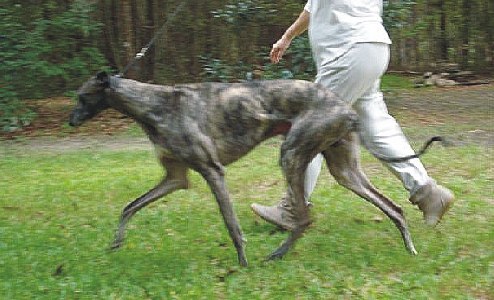 Photos taken September 2007 © Heyl 2007
UKC, IABCA International Champion Najeeb Storm Shi'Rayan, GRC, JC, Dog, born July 12, 2002 ,USA
(Multi Ch. BISS Fahel Shi'Rayan, SORC, FCC, FCh, SGRC6 x Ch. Syringa Happiness at Shi'Rayan, ORC, SGRC)
Owner: Ellen Brady, USA
Breeder: Dr.Dominique Crapon de Caprona, USA
Because of the steady rain and heavy storms for over a month where the owner lives, which made taking pictures very difficult
a previous picture of Najeeb gaiting is shown here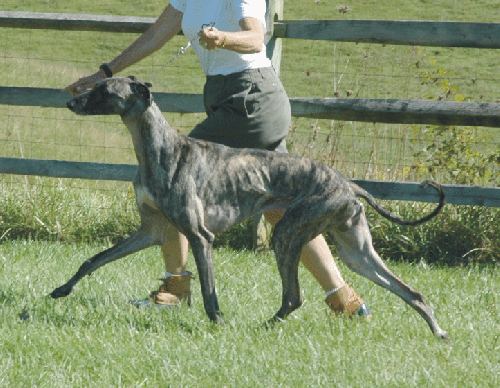 © Shot on site 2007
A lovely head and expression on this male. It would be enhanced if he would hold his ears correctly. Not as well balanced as his competition; appears to be very slightly too long in body. A little narrow in the front . Has a solid rear assembly and uses himself quite well on the move.