OPEN CLASS BITCHES
Judge Jack McGuffin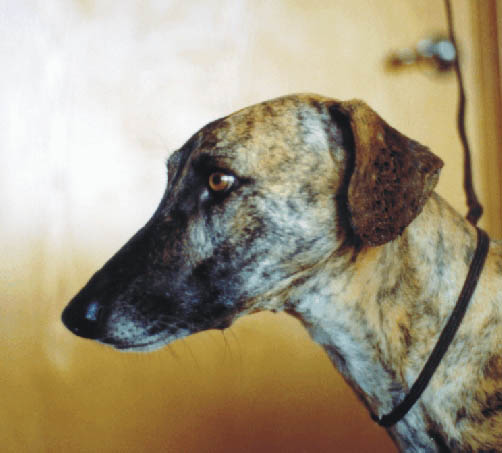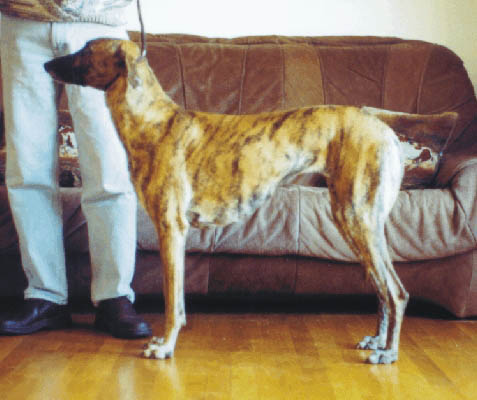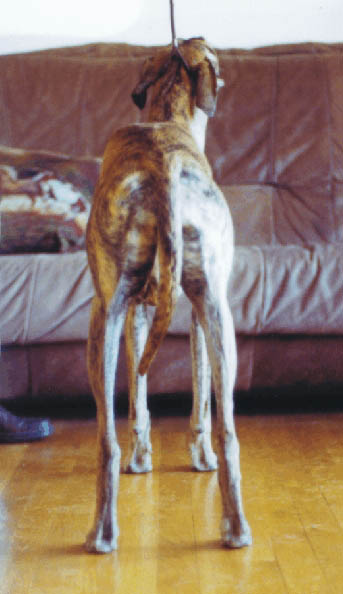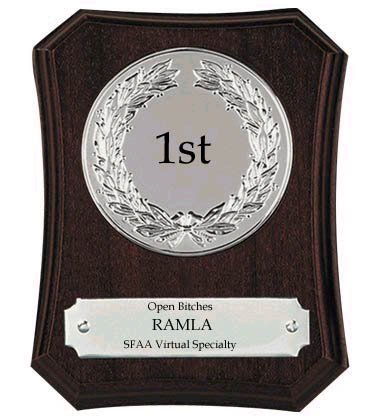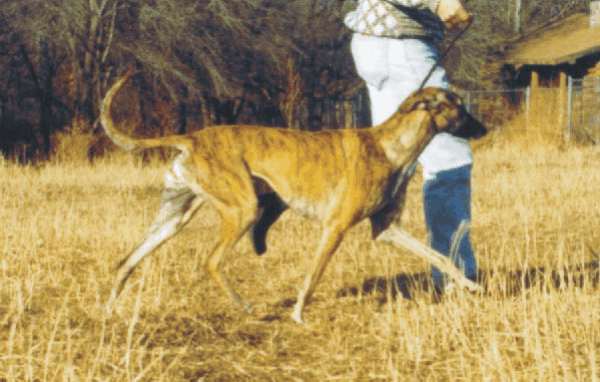 1st RAMLA DOB December 12, 1997 (Bred in Algeria, imported from Tunisia). This is an extremely powerfully built mature bitch of indigenous type, and I feel she's deserving of the win here for several reasons. Although she does not thoroughly typify a mold I would want to repeatedly stamp onto large populations of dogs, she is certainly an important window into the breed's roots besides having many excellent qualities one does not typically see in the larger world population today. It appears evident from these photos that she is a "rock-solid" bitch from head to tail; great strength of quarters; unshakeable in her muscular solidity fore and aft. In spite of her imposing substance, she has a wonderful well-proportioned headpiece fitting her body type, with good expression, atop her powerful neck which is well molded into a fine front assembly. Beautiful strong hindquarters. I feel she is, for lack of a more appropriate term, a wonderful "breeder's bitch" which, when put to the right dog, has much to offer the breed.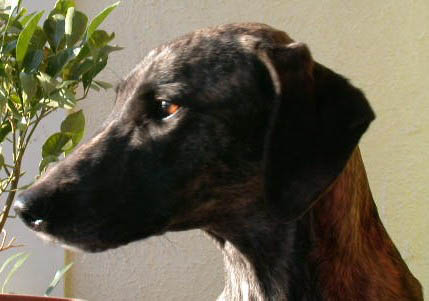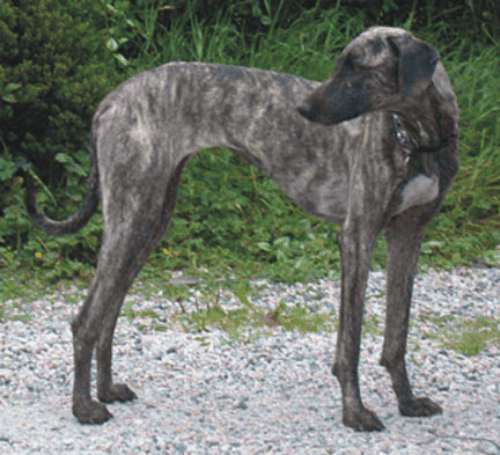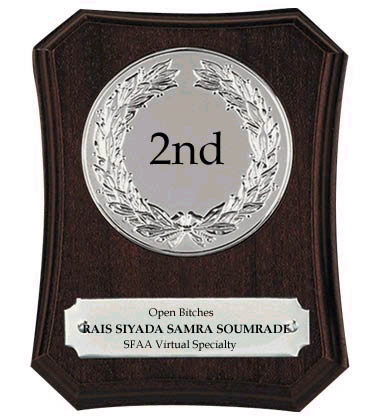 2nd RAIS SIYADA SAMRA SOUMRADE January 17, 2001(Owned by Bamford, UK, bred by Angignard (France) This is a lovely young bitch with many excellent qualities. Beautiful headpiece, well proportioned with nice length of muzzle and with very good ear set. Striking dark brindle pigment. The first profile shot shows her to her best advantage here, and she appears to be of wonderful overall type and very good proportions; nicely coupled and with excellent legs well under the body, and apparently with good width of chest. Her second profile shot does her no favors here, as it thoroughly distorts what is most likely a perfectly nice neck and head assembly and also draws the front from under the body, throwing off her naturally balanced appeal. I would like to see especially her front feet in the flesh, as here they appear possibly slightly flat from these photos. It is also difficult from the photo to determine the better side of her movement, but she appears light on her feet regardless, moving freely in the rear. I estimate her to be a very nice bitch of very good overall type.

Welcome Page
- About Sloughis - Articles of Interest to All Dog Lovers - About SFAA - The Nubia Memorial Cup - Photo Gallery
- SFAA's Code of Ethics - Specialties - Hall of Champions - Sloughi Rescue
- SFAA Contacts - Links - Prince of Sloughis Video/fund raisers
- Entrance (web ring page)

These pages,as well as the text and images within them, are copyrighted by SFAA 1995-2004.
They may not be reproduced without written permission from the Sloughi Fanciers Association of America.