THE VIRTUAL SPECIALTY 2004
CHAMPION CLASS
Judge Mrs Linda Scanlon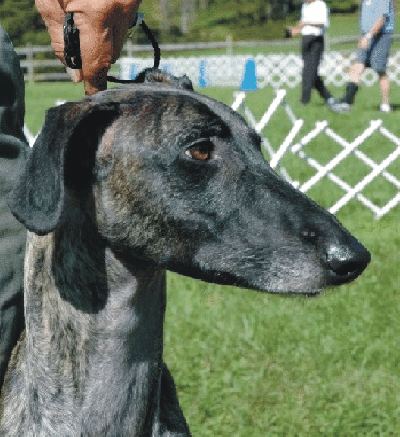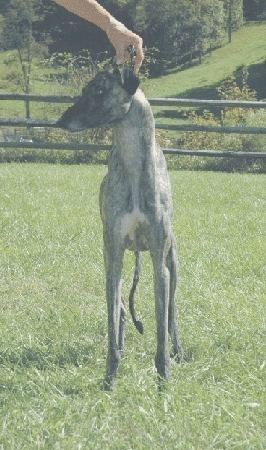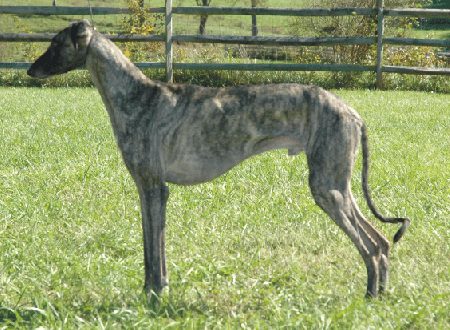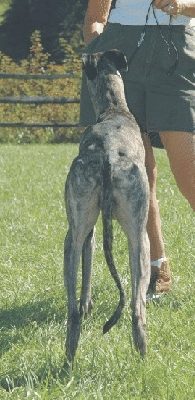 all photos September © Shot on Site 2004
IABCA International & Jr.Ch., UKC Champion Najeeb Storm Shi'Rayan , Dog, born July 12 2002, USA
(Ch. Fahel Shi'Rayan, SORC, FCC, SGRC5 x Ch. Syringa Happiness at Shi'Rayan, GRC, ORC)
Owner: Ellen Brady & George Heyl. Breeder: Dominique Crapon de Caprona
Here is a lovely boy with the requisite sad, nostalgic expression& well set ears. His eyes are large and dark. However, he appears to have a too well developed frontal groove, the rather broad skull appears rounded rather than flat at the front and the bridge of the nose is not quite straight.
This dog has a beautiful length of neck with the slight crest, set well off from his shoulder. The perception is that the neck is a bit longer than the head, so to balance, I would like to see just a bit more length to the head. He has lovely, parallel forelegs with an appealing breadth of chest & front is set nicely on his body. There appears to be nice width of back and loin though I would prefer to see just a slight bit more rise over the loin. He shows nice breadth across the hips & lovely muscling in rear.
He appears to be getting pulled up in front by the handler (that tight lead syndrome again) forcing his head too high, topline sloping toward rear and extended front leg coming up a bit too high.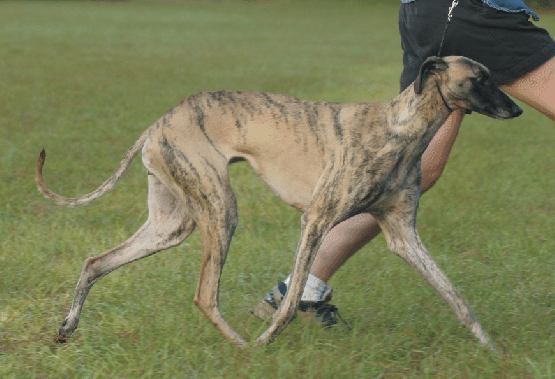 all photos September © Todd Shirey 2004
UKC, IABCA International Ch. Latiifa Shi'Rayan, CGC, bitch, born February 25 2001, USA
(BISS Ch. Ghali Shi'Rayan x Multi Ch. Bouthayna Shi'Rayan, SORC, GRC, FCM)
Owner: Ellen Brady & George Heyl. Breeder: Dominique Crapon de Caprona
Head on she has a charming, alert, intelligent expression created by the dark, beautifully shaped & set eyes and properly carried ears.
While she has a pleasing crest to her long neck, she shows a fullness in the throat region which is bordering on ewe-necked. It may be that she is being held too erect by handler. Her front has nice breadth with nice straight legs but is set too far forward on her body creating an abrupt neck into shoulder look as well as giving the impression that the elbows might be hyper extended.
There is a nice depth of brisket but the forward front & straight upper arm make it appear shallow. There is a lovely tuck up however, it appears the topline comes to its greatest height too far forward, then drops too steeply into the croup. The breadth across the hips seems slightly less than breadth in front.
Her front action seems ground covering, however the steep croup impedes her rear drive – there appears to be a lack of power coming from the under extended rear leg and her forward rear leg cannot reach far enough forward without interfering with her trailing front leg.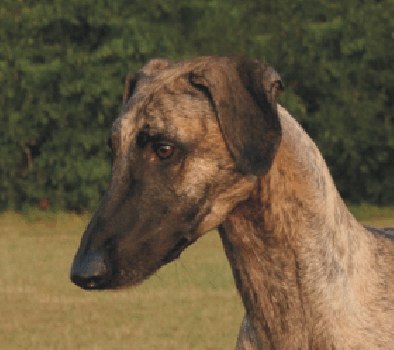 October © Todd Shirey 2004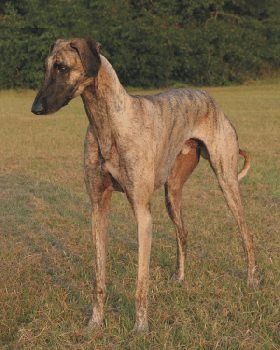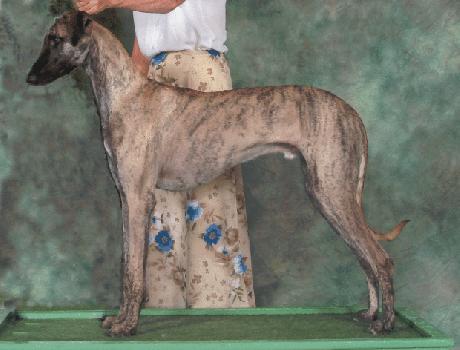 October © Todd Shirey 2004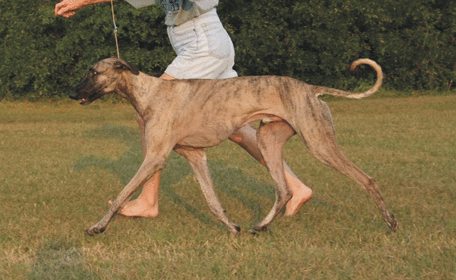 October © Todd Shirey 2004
IABCA Jr.& International, UKC Champion Shi'Rayan's Nayyir at Mazoe , Dog, born July 12 2002, USA
(Ch. Fahel Shi'Rayan, SORC, FCC, SGRC5 x Ch. Syringa Happiness at Shi'Rayan, GRC, ORC)
Owner: Ann Chamberlain & Dominique de Caprona. Breeder: Dominique Crapon de Caprona
He has a bright, alert expression in his warm brown eyes and his ears are set & carried appropriately. His muzzle appears a touch shorter than backskull but I believe this is because his stop is farther forward than desired & the skull lacks flatness above the eyes. He has some dewlap which adds to the impression of a slightly thick head.
His neck has a beautiful crest with appropriate length. His front is set a bit too far forward which leads to the slight hollowness in the frontal view. There is nice length of straight forelegs, the upper arm appears very strong and muscular and rear angulation is moderate with pleasing, low hocks & very nice breadth of upper and lower thighs.
In profile, this dog appears very immature. He lacks what I think of as the dramatic sloughi underline. The curve is smooth but he is just not as shapely as my visualization of your standard. His topline is a touch slack behind the withers and the loin does not look particularly well developed nor strong.
Moving, he has more forward reach than rear power, thus lacking ideal balance.