THE VIRTUAL SPECIALTY 2004
12-18 MONTHS CLASS DOGS
Judge Mrs Linda Scanlon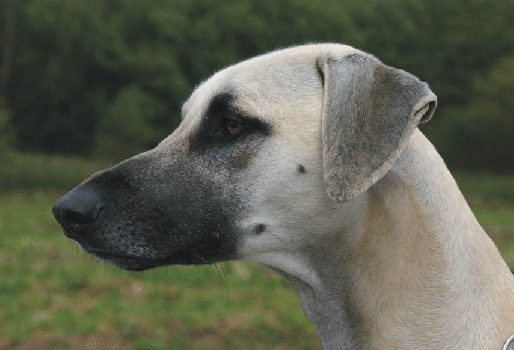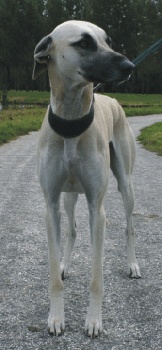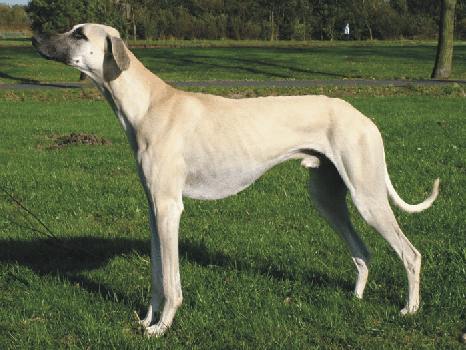 Photos taken beginning of October 2004 © Siebel 2004
Faruq Kamar al Akbar, born April 4 2003, the Netherlands
(Hissar Min Ahrar al Maghrib x Ziya Schuru-esch-Schams)
Owners: Frie and Els den Boer - Siebel, the Netherlands. Breeder: R. Apeldoorn, the Netherlands
1rst Faruq Kamar al Akbar I believe this dog is too old to be entered in this class as he was 18 mos. on 4 Oct 04 and entries closed end of Nov. 04. However, if we were actually in the ring at a show I would not know that so he will remain in this class for the purpose of this "show".
Here is another dog with far too much stop according to my interpretation of the standard. He has a Roman finish to his muzzle rather than the required straight bridge. He appears to have a beautiful dark eye & good expression. He is not happy, rosing his ears in some photos but shows the properly high ear set & shape at least once.
He reminds me in many ways of my 1st place 9-12 mos. dog & I wonder if they are related. This dog is also showing a bit of excess width in front and the forward placement of his entire front structure. There is good length of neck despite the front placement but it is lacking a pleasing crest. There is also some dewlap. This dog has the correct slightly taller than long proportion and a nicely curved underline with good tuck up. However, in the photo his loin appears flat with a bit of softness showing in the backline.
The croup is pleasingly wide and this dog shows lovely strength of muscling in both upper and lower thigh.
He shows some rise over loin in his movement photo so perhaps he was being difficult on the stack. The timing of his movement in photo is incorrect as right rear foot in on ground & front left is still in the air. However, it looks as though he is being restrained by handler which could account for this. The movement appears supple, smooth and with good ground coverage.