THE VIRTUAL SPECIALTY 2004
PUPPY CLASS DOGS 9-12 MONTHS
Judge Mrs Linda Scanlon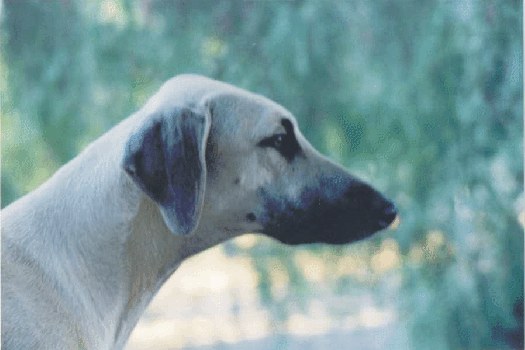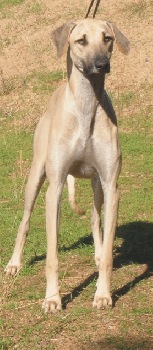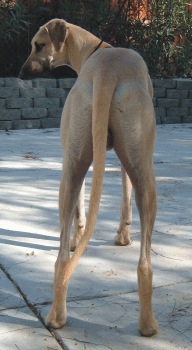 pictures taken first weekend of November 2004 © McGuffin 2004
Kanz Min Ahrar al Maghrib, dog, born December 26, 2003, Germany
(Ch. V'Bedui Nuri al Baida X Ch.Ifrane Min Ahrar al Maghrib)
Owner: Jack McGuffin (Jaaram) USA. Breeder: Gisela Masurat-Walden, Germany
1rst Kanz Min Ahrar al Magrib Properly high set & well carried ears with that lovely, nostalgic look in his dark, obliquely lidded eyes. However, he is showing more stop than the standard requests and has a bit of a convex line to the muzzle. There is appropriate length to muzzle to balance with backskull but the occipital crest is rather too visible.
Neck length seems to equal head length but would appear better set on if shoulder had better layback & front was set back better. The neck does show a nice crest but there is also some dewlap. Topline is harmoniously curved and there is proper depth of chest with an evenly curved underline. I hope that age will bring more tuck up. There is a nice proportion of height to length & very good tail length.
I am concerned with the obvious width in front that this pup already shows. Overall, he shows a bit of thickness everywhere which extends to his feet which appear to be round rather than the required elongated oval.
While I appreciate what looks like very good muscling in this dog, the standard requires flat rather than "round & protruding" muscle.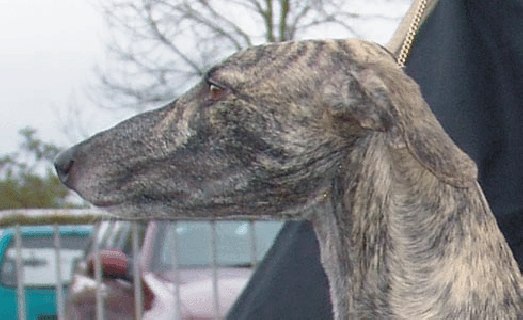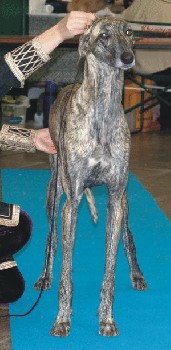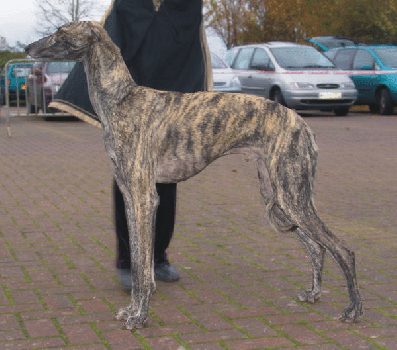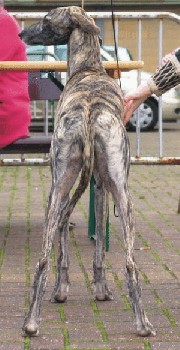 photos taken November 2004 © Nicholas Carter 2004
Uazzer D'Imi-N-Tanout at Doocloone, dog, born December 7 2003, France
(French & Int. Ch Oggar al Hakam D'imi-n-tanout x Ophyr al Neroud D'imi-n-tanout)
Owners: Susan Bamford (Doocloone), Amanda Carter (Afilador), UK. Breeder: Francoise Marin, France