THE VIRTUAL SPECIALTY 2004
OPEN CLASS DOGS
Judge Mrs Linda Scanlon
Note: in the UK, the Sloughis cannot yet compete for CC and UK Championship titles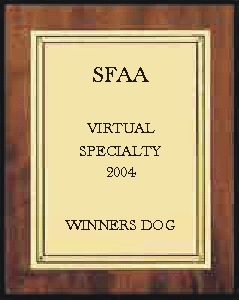 © Meissen 2003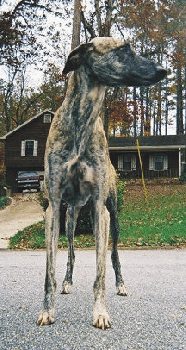 © Tyler 2004 ~ © Meissen 2003
Jinn Shi'Rayan, Dog, born November 2 2000, USA
(IABCA International & Veteran Ch. Fa'iq Shi'Rayan, ORC, GRC X Ramla, import Algeria)
Owner: Alison Tyler . Breeder: Dominique Crapon de Caprona USA
1rst & Winners Dog Jinn Shi'Rayan. This is a 4 year old dog who is less than happy to be photographed as he has his ears rosed and pulled back. He has a lovely lean head with good length of muzzle and hardly pronounced stop, though with just a slight convex finish to the bridge, and appropriate gentle, nostalgic expression.
There is no good profile view but from front it would appear the neck is long enough to balance with the head. It is impossible to gauge whether there is a crest to it without a side shot, however based upon the proper set back of this dogs front, I would think the neck is placed & carried properly set off from the shoulder which appears long & well positioned. The back has a bit of slope from withers toward the rear rather than being horizontal and the rise begins just a touch too soon, however, it is smooth and harmonious. The underline is evenly curved with flank well tucked up. Croup is long but not falling away too strongly. There appears to be acceptable muscle to upper & lower thigh which is properly long. Hocks appear strong and well bent.
Without rear and movement photos, some things must be extrapolated from the other photos. Based upon his overall balance, I expect this dog would have appropriate movement for the breed.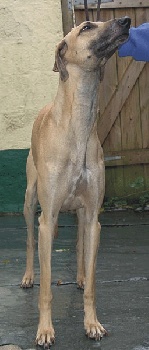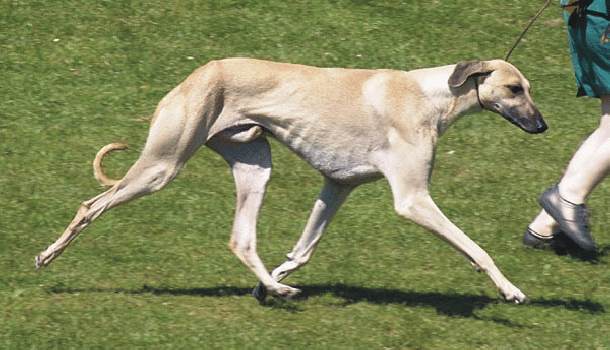 © Nicholas Carter 2004
Falconcrag Baroukh ShCM (Show Certificate of Merit), Dog, born Juky 28 2001, UK
(Falconcrag Khabiya of Cobyco x Taslima Schuru Esch Schams (German Import)
Owners: Amanda Carter (Afilador]), Stephanie Marston-Pollock (Falconcrag) UK. Breeder: Pam Marston-Pollock (Falconcrag) UK