\THE VIRTUAL SPECIALTY 2004
VETERAN CLASS BITCHES 7-10 years
Judge Mrs Linda Scanlon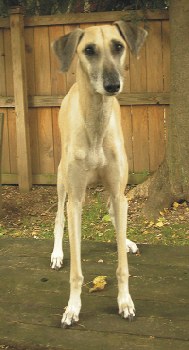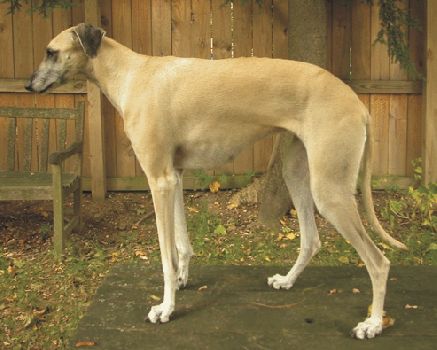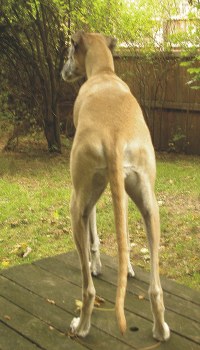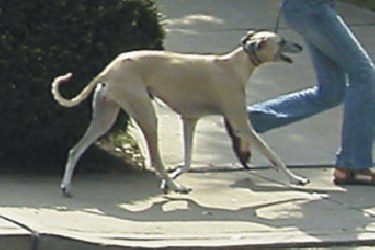 Photos taken early November 2004 © Kapl-Blume 2004
Ghalia Shi'Rayan , Bitch, born January 17 1997 USA
(Ch. El Emin Schuru-esch-Schams x FCI International Ch., World Winner BOB 97 A'Ssissa Shi'Rayan, FCC, ORC, SGRC, TT)
Owner: Edda Kapl-Blume, USA. Breeder: Dominique Crapon de Caprona, USA
1rst Ghalia Shi'Rayan . Here is a nearly 8 year old lady. She has large, gentle, sad expressive eyes, wonderfully set and carried ears on a rather broad, flat backskull with hardly pronounced stop. Her head could be longer. The neck has a slight crest and rises from a long, oblique shoulder. Her front could be placed a bit father back on her body, however.
She stands on very good feet with good length of leg under her & good height to length proportions. She is quite well "covered" and, I suspect very soft as well. Her topline is smooth with a slight rise over the loin. Her underline is evenly curved into a well tucked up flank.
Her croup shows a nice slope leading to good width and nice breadth of upper and lower thighs.
She is moving smoothly with long strides covering plenty of ground with good head carriage. Her timing is slightly off with the left rear foot on the ground while the corresponding right forefoot is too high.