THE VIRTUAL SPECIALTY 2004
VETERAN CLASS BITCHES 10 years and older
Judge Mrs Linda Scanlon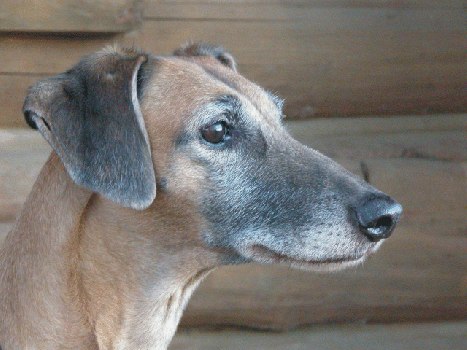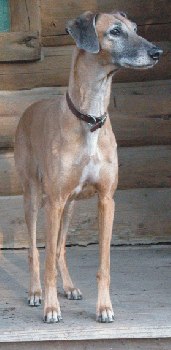 Photos taken November 30 2004 © de Caprona 2004
IABCA International & Veteran Ch Dalal Shi'Rayan,JOR, GRC, Bitch, born October 13 1994 USA
(Rif de Moreau x IABCA International & Veteran Ch.Farissa Fediha Kahloul de la Treille)
Owner & Breeder: Dominique Crapon de Caprona, USA
1rst Dalal Shi'Rayan. This bitch is just over 10. She has a long, refined but strong head with high ear set and proper carriage, large eyes and nostalgic, gentle expression. With age her nose pigment has greyed to match her muzzle.
Her long neck still has a nice crest and rises from an oblique, well set shoulder and strong upper arm. There is some white on her chest.
Her topline is showing signs of age with a barely perceptible rise over the short loin but her back remains firm. The bottom line is smoothly curved but has lost some of its tuckup in the flank.
There is a nice slope to the broad croup leading into nice breadth of upper & lower thighs though the muscling looks as though it might be soft. I would like to see a bit more length of leg but she stands on very strong, well formed oval feet. This bitch has nice balance between front and very functional appearing rear.