THE VIRTUAL SPECIALTY 2004
VETERAN CLASS DOGS 7-10 years
Judge Mrs Linda Scanlon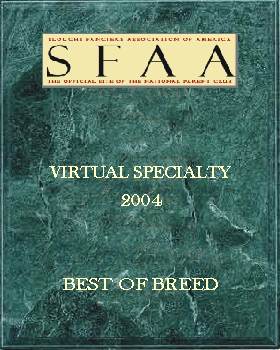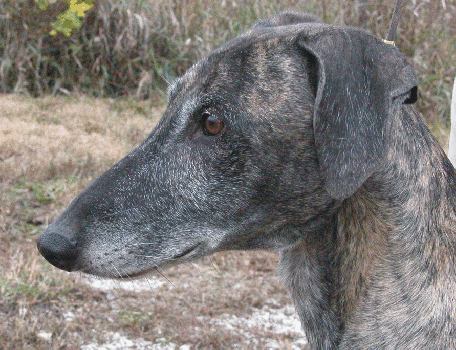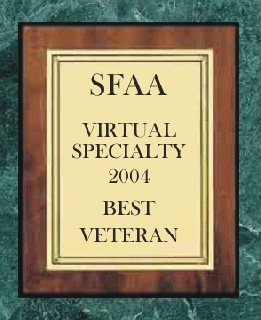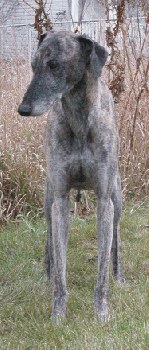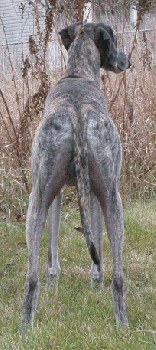 Photos taken November 26 2004 © de Caprona 2004
IABCA International & Veteran Ch. BISS Fahel Shi'Rayan, Dog, born January 1 1997 USA
currently #1 Sighthound All times in American Sprint Racing (LGRA)
# 1 Sighthound in American Sprint Racing 2001 and 2002
(Multi Ch. BISS Aswad Shi'Rayan, SGRC, ORC, FCC, TT x Ch. Chamisa Schuru-esch-Schams, ORC, GRC, FCC)
Breeder and Owner: Dominique Crapon de Caprona, USA
BIS & Best Veteran Fahel Shi'Rayan. Here is a nearly 8 year old dog showing wonderful quality and desirous characteristics of the breed. He has very high set, properly shaped ears on a long, lean delicate but strong head with hardly pronounced stop. His expression ranges from alert to nostalgic. He has a proper length of neck with visible crest, but just a tiny bit of dewlap which could be due to age.
His front is nicely set on with a long, well placed shoulder allowing the neck to set off from it properly. The chest shows appropriate width without being too wide.
His proportions of height to length are within the standard and his back is horizontal leading to a smooth, harmonious curve into the loin which appears properly short. He has a wide, strong croup with strong, well muscled 1st and 2nd thighs and good length in 2nd thigh.
He has a well developed depth of chest as you would expect in a fully mature dog but it does not extend below elbows. The underline is smoothly curved with flanks very well tucked up.
In movement he holds his lovely lines and has a good ground covering stride which looks smooth & supple. I would ask the handler to loosen the lead so that his foot timing would be better (front right foreleg is a bit high) and his head would be allowed to drop to a more natural position.