by Shelly Ice 2003
It was mid October and I had decided that I wanted to add another adopted sight hound to our family. At that time I was very involved with greyhound adoption. We had 2 retired racing greyhounds of our own plus many fosters coming and going. I went to the internet and began my search. The Sloughi caught my eye and I kept ending up back at different Sloughi sites. The next week on the Greyhound-L came a post of a greyhound mix that was badly injured and was in the county animal shelter*. Being part of greyhound adoption, as a group, we are always ready to step in and help the greyhounds, and any other sight hound, that is in need. Not long after that first post this dog was identified as a Sloughi and not a greyhound mix. Now my gears began to shift from how do we help this injured greyhound mix to how do I get to be the one to adopt this rare sight hound.
This is what I have been able to put together for Baasil's past. It begins with a litter of 8 puppies in the hands of inexperienced dog people. They were, for whatever reason, unable to sell these puppies. The puppies began to get bigger and more curious. He was able to get loose from his breeder and subsequently got hit by a car, fracturing his front leg. He was picked up by animal control and placed in the shelter. He then had to wait out his time at the shelter, with limited medical care, before he could be released. He was released to Adopt-A-Pet after the owner and breeder of origin chose not to pay for his expenses. Adopt-A-Pet proceeded to find a kind vet to help them with his extensive injuries. He had surgery on his leg and spent the next several weeks recuperating from surgery and learning how to interact with people.
In the original e-mail posting I had recognized a couple of names and with their help I was able to get in contact with Adopt-A-Pet. We did our paperwork with Adopt-A-Pet with the hope of being able to adopt him. As soon as Adopt-A-Pet notified us that he was available for adoption, and that we had been approved, we were on the road to meet him. My husband, my daughter and I went to visit him. He was so very different from any dog I had ever been around. He immediately liked my daughter and myself, my husband however was another story. It was as if he wanted to like him but…………
We adopted him that day and brought him home. When we got home we got the greyhounds and went to get our "family" picture taken with Santa. Then we came home to meet the rest of the family. We had three older boys at our house and he absolutely did not like them, was not going to like them, and that was that. To this day he dislikes each of them a little differently. As far as my husband goes he has come to really like him.
My next delemna was what to name him. I like names that are different but have special meanings and since I am not very creative this was a difficult task for me. I went thru many baby name books, webpages, etc. unable to find the right name. Then I was given a website with Arabic names and there was his name "Baasil" which means brave and heroic. What a name for a puppy that had been through what he had just been through.
His next big adventure was a ride in the van. He would look out the back window with the "deer in headlights" look as the cars would come up behind us. After several rides he figured out that they were not going to get him. One of our first outings was a Peoria Greyhound Adoption Meet-n-Greet at a pet store with his greyhound brother Jinx. Jinx was an older, very laid back, mellow, go with the flow greyhound that loved to be out in public. I took the two boys to the Meet-n-Greet, Jinx out in front of me with his tail wagging as fast as he could get it to go when people would come up to him. Baasil, however, spent his first Meet-n-Greet hiding behind me poking his nose out from between my legs or around my hips every now and then.
Back at home he found that the couch was a very soft and warm place to be. He and my daughter formed a very special bond on that couch. He would be asleep on the couch and she would climb up on him and lay on his side. The two of them could be found napping there together many times.
In the 5 years that we have had Baasil he has come a long way and seen many changes. He has gone from a gangly 9 month old puppy to a very strong and handsome 98 lb dog with a great big bark. He is now able to attend m & gs and actually greet people with out fear. People think that he sure is a funny looking greyhound. He still has not exactly mastered walking on a leash, but we can get where we need to go. He has lost his greyhound sisters, Happy and Sabrina, and then greyhound brother, Jinx, to rainbow bridge. He has seen many many foster greyhounds come in and then move on to their forever homes, well most of them moved on to other homes. I am always able to count on Baasil to welcome the fosters and make them feel welcome. He seems to know which ones he needs to be careful with and which ones could handle him. He has the ability to make all visiting dogs play with him on command. The foster girls tended to take offense to his "butt nipping" technique and the chase would then be on. For Baasil that was exactly what he was looking for. He has welcomed a new baby to our home. Just recently another of those special need fosters, that seem to need us, has become his new brother (Neil). Baasil is approaching his 6th birthday and it is so nice to see that he still has the goofy puppy look in his eyes.
I would personally like to thank Adopt-A-Pet, for saving him from certain euthanasia and Dominique de Caprona for answering so many questions.
* in 1998.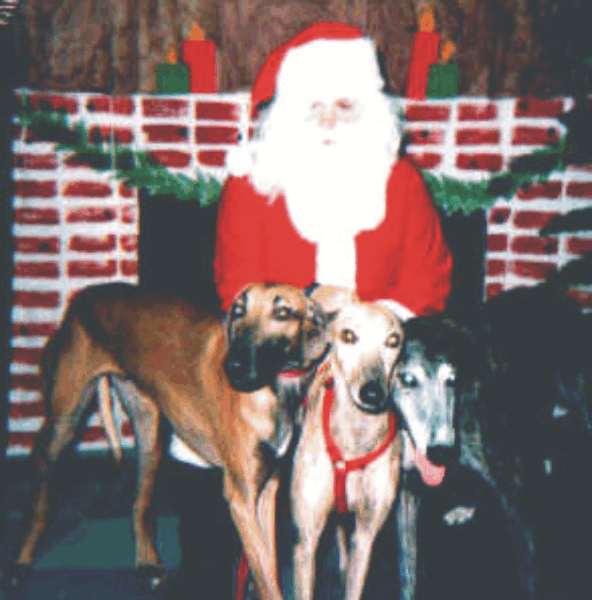 Baasil's first Christmas (left) 1998
Baasil went over the Rainbow Bridge at the age of 10 years in April of 2008

We encourage prospective Sloughi owners to read our page on responsible breeders before purchasing a Sloughi.
SFAA is also happy to make breeder referrals, see under "contacts"