NATIONAL SPECIALTY 2003
Memorable moments, The Halloween Costumes competition
After a fantastic dinner of South Carolina shrimps and Boeuf Bourguignon prepared by Ellen Brady and Lisa Marrone and brought from South Carolina
and great wines brought from Texas by Emily Danskin, laughter echoed on the parking lot....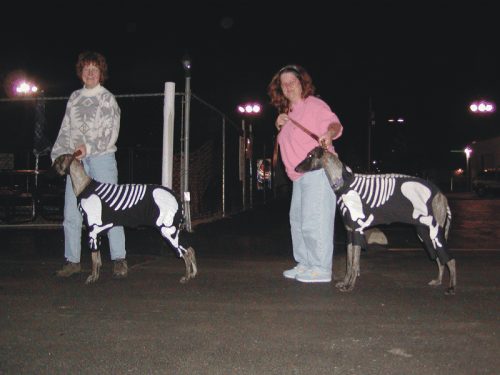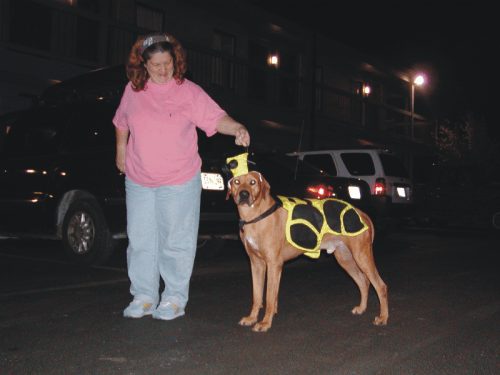 of skeletons and bumble bees! Tyger and Storm, and Auggie the Ridgeback with Emily Danskin
Both pictures © Ellen Brady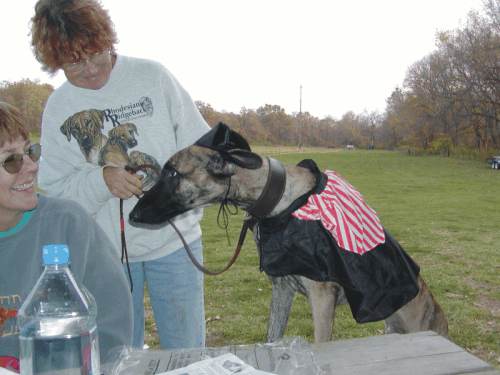 Tyger "practicing" earlier...© Ellen Brady

---
Some gentle moments

Dalal and Dominique, I'Saar on Lisa's lap © Emily Danskin
Welcome Page
About Sloughis - Articles of Interest to All Dog Lovers - About SFAA - The Nubia Memorial Cup - Photo Gallery
SFAA's Code of Ethics - Specialties - Hall of Champions - Sloughi Rescue
SFAA Contacts - Links - Prince of Sloughis Video/fund raisers
Entrance (web ring page)


These pages,as well as the text and images within them, are copyrighted by SFAA 1995-2004.
They may not be reproduced without written permission from the Sloughi Fanciers Association of America.