North African Efforts
Morocco

Interview with Sophie Pellissier, the Sloughis des Grimoires de Kerfa in Moroccco
July 16 2010
Translation by Dominique de Caprona 2010
© de Caprona 2010
Copyrighted material. Do not use text or photos for any purpose without asking. We will follow up on plagiarism.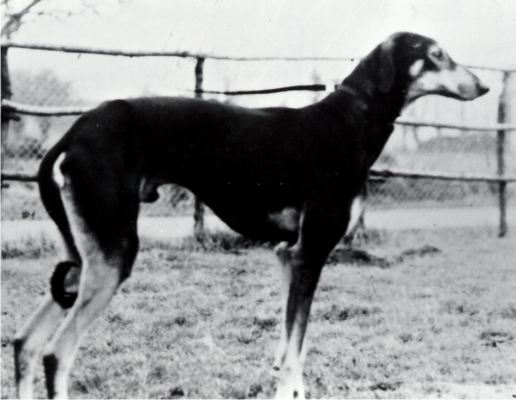 Abd des Grimoires de Kerfa, courtesy Mrs Rhodes Goudineau
Dominique de Caprona: Mrs Pellissier, as we have discovered 35 years later, we should have met the first time in France at the National Specialty in Augy-sur-Aubois, Septembre 29, 1974. We were both there but we missed each other unfortunately. One would have to wait until 2009, and the fact that you have contacted me, to be able to have a discussion thanks to the internet. In the meantime Elyse Rhode Goudineau (kennel Kahloul de la Treille), who, like me, had a d'Ymauville Sloughi, had told me about you.
Several western kennels, including mine, as well as some in Morocco, have Sloughis which descend from your Moroccan kennel "des Grimoires de Kerfa", in particular the sand black mantle male Abd des Grimoires de Kerfa. I am therefore very happy now to have a conversation with you about your stay and your kennel in Morocco.
To place your stay in its time frame, during which period did you find yourself in Morocco and in which region (s)? How long did you stay in Morocco?
Sophie Pellissier: We arrived in Morocco in 1968 and we left in 1982. At the beginning of the 70's we settled at "Kerfa", a small property only a stone's throw from Marrakech, with a few Arab Barbe broodmares.
Dominique de Caprona: How and in which place did you come into contact with the breed Sloughi for the first time?
Sophie Pellissier: Kerfa, needing many repairs, had a mason working there year-long. He insisted with my husband that I go see his brother's Sloughis. Fighting a losing battle and with BAD WILL, I went with Bouzid to Tleta of the Ouled D'Lim. Bouzid's intention was that I should leave there with his brother's two slegues because his brother had little means and he thought they would be better off with me without losing sight of them. Bouzid was living in "Ouled Ben Aïch", a douar neighboring Kerfa. His oldest-brother status gave him the license to make this decision with which I was not agreeing at all. It was then that, arriving at Bouzid's brother's place, everything toppled for me: a child of his brother, opening the door, two Sloughis took off, leaping about, galloping across this immense area covered with wild gladiolas. It was in Spring and I was hit head on by such beauty. I put the two Sloughis in my Mehari. We were to meet with the brother returning from the souk. He used all arguments so that I would not take away his sloughis, but nothing in the world would have made me change my mind. I never imagined the grief I was giving this man. He had to give in to his oldest brother's authority.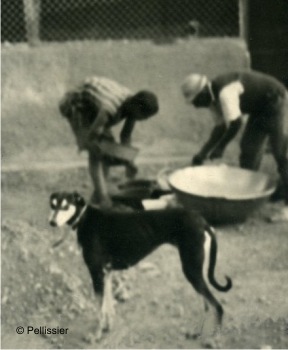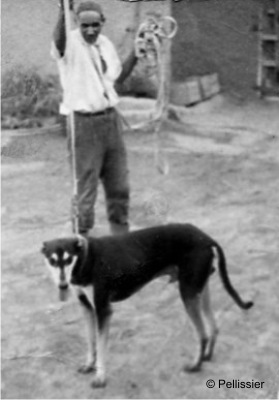 Left, Ghazella, preparation of Chicha in the back; right: Oudded 10 years old © Pellissier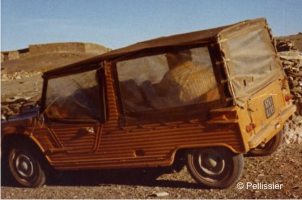 The Mehari which transported Oudded and Ghazella © Pellissier
Dominique de Caprona: How did you come about raising this breed?
Sophie Pellissier: I have to anticipate one of your questions. It was only the beauty of these dogs which made me acquire them with no intention of breeding them. Circumstances decided otherwise! Once back in Kerfa, Bouzid gone back home, we were all surrounding the pair being explored, cuddled, a feast for one's admiring eyes, when my daughter noticed that Ghazellah's vulva was closed by a pin! HORRIFIED and IGNORANT we removed the pin and dumbfounded witnessed an untimely mating!
Dominique de Caprona: Where did the Sloughis you started your breeding with come from? What were their names?
Sophie Pellissier: They came from the Ouled D'Lim tribe**, as well as El Amrane and Naama. This first pair was named Oudded (the male) and Ghazella (the female). Both were sand black mantle. The Ouled D'Lim tribe is from the South.
Dominique de Caprona: Which was your first litter? How many litters did you have?
Sophie Pellissier: The first, that which resulted from the untimely mating, gave 15 puppies identical in every way to their parents. Eight died at birth.
I started to breed in Marrakech in 1972 until 1976, under the affix "des Grimoires de Kerfa", with my dams Ghazella, her daughters Viana, Nejmaa, Naama and R'Milah; then until 1982 in Meknes with Viana and the daughters and granddaughters of Nejmaa and Naama, litters which I gave then to tribes of hunters in the region of Marrakech. As studs I had S'Altaïr, Zadid, Wargas d'Ouled D'Lim* and a son of Vayou and Naama. Wargas was a son of the French-bred S'Altair with Hourria, a little village Sloughia of the Marrakech region. My dams did not breed much, maybe 1 or 2 litters per year.
During my many moves, I have lost quite a few things including my breeding booklet. Very few documents have survived!
Actually, it is not the insignificant number of litters which taught me but the company of Arabs, hunters or owners or ex-owners of Sloughis which led me further. Talking, reading, inquiring, researching. This is what I preferred to breeding, just as I was riding less when I started breeding horses. I preferred the stables......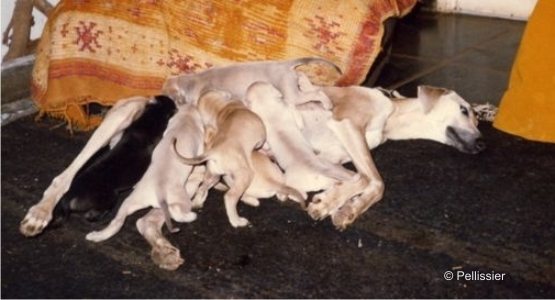 Nejma II des Grimoires de Kerfa, left, puppy with dark blue mantle Afrita des Grimoires de Kerfa © Pellissier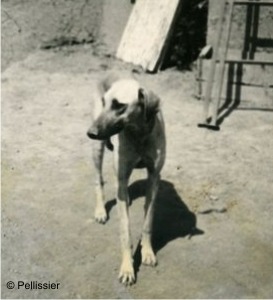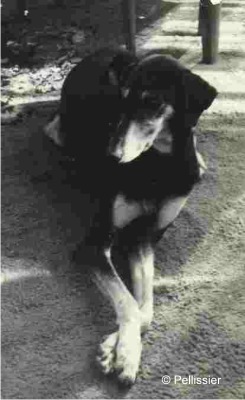 El Amrane and Naama of the Ouled D'Lim tribe © Pellissier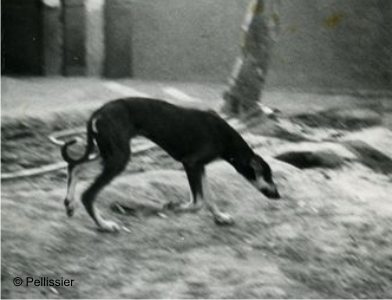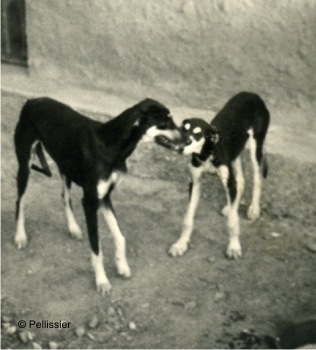 Left: puppy (Amrane x Naama); right: Vayou des Grimoires de Kerfa (Amrane x Naama) and Vanessa des Grimoires de Kerfa (Oudded X Ghazella)
© Pellissier
Dominique de Caprona: Several of your Sloughis were sand black mantle. Was this the coat color you preferred?
Sophie Pellissier: I liked the sloughis sand black mask but I had and always have had a preference for the sand black mantle, of Ghazella's and Viana's type. But I have met with superb sands and two brindles only, met when I was in the South - a little golden brindle "Dibah Ghazela" which I had given to Mr. Przezdziecki, and who had puppies with Uhlan it seems, and a tribal Sloughi so fast he was named SAROUKH, which means "rocket."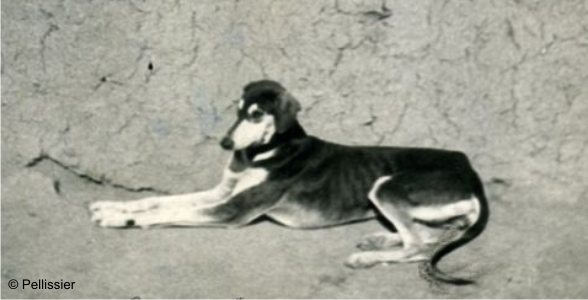 Viana des Grimoires de Kerfa, Abd des Grimoires de Kerfa's mother, by Oudded out of Ghazella © Pellissier


Diba Ghazella, golden brindle, given to M. Przezdziecki (France)
Perhaps one of Saroukh's daughters
Dominique de Caprona: Among the Sloughis that you have known in Morocco, which would be the Sloughi or the Sloughia which would have impressed you the most and why?
Sophie Pellissier: Difficult question! Maybe Ghazellah, she produced consistently with Oudded. A harmonious morphology completely of the type which for me makes a Sloughi. Everything was good in this solid village girl, nevertheless very typey, of a selection carried out during decades by the Bouzid family. With Viana, and her daughter Naama, she was my best dam.
Dominique de Caprona: At the time you found yourself in Morocco, in which situation did the Sloughi find itself? Who took care then of the preservation of this breed?
Sophie Pellissier: I do not know much about this. I think an embryo of a Canine Society had subsisted, which then was passed on to the hands of the French couple Pascon. Mr. and Mrs. Pascon had started the "Revival of the Sloughi" with a few Sloughis brought in by the "Eaux et Forêts" (Water and Forestry) during dog shows. The standard was then deposited by Morocco and numerous and successive modifications were done to Mr.Durel's.
Owing to the Tradition some of my experience, it seems to me that Durel was in agreement with what I had been able to hear on one aspect among others: that of the size "to small game, small Sloughi". The new standard never took this into account.
Then I am afraid that many people engaged themselves as a result with the rejection of the traditional breeding, countering instead with gatherings (with beaters) during which one measured, reported, estimated etc and let the subject go with a sugarloaf and 5 dirhams and some registrations in the Moroccan Registre Initial. I maintain that many Belrouches quite of Sloughi type were recognized as Sloughis, without the instigator of this type of census having ever seen that it was the same subjects which were being presented several times. It is easier to know things when one speaks Arabic....................
The situation of the Sloughi was not enviable: a life of an outcast which could be destroyed on sight. To enter a Sloughi owner's home was a difficult enterprise, one had to navigate from "Sesame to Sesame", without which it was illusory to encounter only one, so great was their fear of being revealed! How many meetings set for the day of the souk, how many shared glasses of tea talking about everything except Sloughis (my husband speaks fluent Arabic) while waiting for the emissary, who came or did not, or with whom, well, one did not talk about the subject of the meeting or at the very last moment in two words. Then, one only had to wait for Mektoub.**
There was some cynologic activity because there were shows sometimes. Regarding Sloughis, it was the couple Pascon who judged, then Dr.Gaudois and his spouse and sometimes judges invited from France and "last but not least" the Princess Ruspoli, initiator of the Sloughi census.....who received a convenience judge's appointment.
Dominique de Caprona: Did you not even yourself organize a show in Marrakech?
Sophie Pellissier: There was a regional canine society in Marrakech of which I was the vice president with a nice Moroccan motocyclist of the National Gendarmerie. Then Mr. Ouret and Mrs Pouilaude, both international judges for other groups, have encouraged me to accept the position of technical steward. It was thus that I intervened for the organization of the show with these two judges. The contacts I had made during my shows outside of Morocco were a pool of exhibitors insofar as one would transform the national show into an international one, which could be done only with the governor's agreement, which he accepted. We have had many exhibitors coming from abroad for the CACIBs and CACs, in addition to cups and Moroccan rugs generously offered by the industrial world whose doors my husband had opened for me. In the night preceding the show, the printer was still setting pages for late registrations.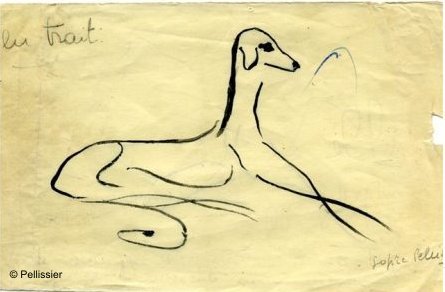 Drawing by Sophie Pellissier for the posters of the Marrakech show
Dominique de Caprona: Were Sloughis numerous in Morocco? Who were the people who owned Sloughis, hunters, individuals etc?
Sophie Pellissier: For that period of time I can only speak about the South. Some Moroccans owned one Sloughi, rarely several. To feed a Sloughi which did not hunt was burdensome for many. As for the hunters so difficult to meet with, in contrast to Meknes, if they were caught hunting, the sanction was terrible: the Sloughi was killed and the fine very heavy.
Dominique de Caprona: Which were the most important Sloughi selection criteria for Moroccans at the time? their hunting talent, their temperament? and what was the typical food Moroccans gave the Sloughis?
Sophie Pellissier: Selection criteria, hunting first and always of course, but how to detect very early such criteria?
At birth the puppies were turned upside down in the hollow on the hand. One estimated then how the hindlegs engaged themselves towards the front legs - the furthest the hindlegs went on each side of the frontlegs, the faster the Sloughi would be. The front and hindlegs strechted out in the hand thus cleared the chest, of which one could see if it was deep, "Kerchou fi gachouch", long the suppleness of the neck, the tail's set and length - it is later that one will move the tail under the thigh to bring it back to the loin. At the same time one would judge the leanness of the muscles.
For the food it depended on many things. On the whole, the traditional food was made of "Chicha", which is Barley very finely ground and kneaded with olive oil. One made a ball of it which one then gave the Sloughis. On souk days one could bring back the feet of goats newly killed, because goat feet gave agility to the Sloughi.....Legend, of course! In addition I think that the fresh marrow must have been a significant contribution to the food's balance. The puppies had bread soaked in milk, barley flour just ripe, reduced and mixed with milk. Voluminous and light flour which the chief caïd "HB's" trustworthy hunter would take when he went to meet again with the nomads so that he could choose Sloughi puppies as thanks for the protection that they were given during the crossing of his territory. I have heard several times that if a Sloughi puppy was not doing well, one would let him be nursed by a woman, because their milk was rich and generous, by the fact that they put Fenugreek seeds in their food. Pretty legend or the truth? What does it matter?
Dominique de Caprona: Which traditions have you been able to observe regarding this breed? How did Moroccans prevent their sloughis from mating with the wrong dogs?
Sophie Pellissier: They are many and contribute to the fascination that the Sloughi represents for the Moroccan. Concerning that point I have to say that having lived in Meknes I have not found except in one case, in the world of hunters, all that had been told of charming stories, in fact all to the glory of the Sloughi, his beauty, his intelligence.......the affectionate way that one calls them "Skout sleghes" like we would say "Hush kids."
There is no hierarchical relationship between the Sloughi and the hunter. He knows the Sloughi is intelligent; during the hunt he trusts him. See the saying: SLOUGHITEC BKHAL NEÏTEC TSAYEDLEC EL HEÏBE OUALA EL KHEÏR. Translation: "Your Sloughi, like your conscience, during the hunt will bring you good or bad."
Mating with the wrong dogs was prevented in the southern tribes by the insertion of a pin in the Sloughia's vulva during her heat. This appears to us as cruel, certainly, but it is at this price that entire bloodlines of the Sloughi remained perfectly pure. The male was free to mate and to produce "Belrouches". The Belrouche is always the result of a male Sloughi and a bitch, never of a Sloughia!
Dominique de Caprona: You showed me a statue of a Sloughi in wrought iron. Could you tell us this statue's story?
Sophie Pellissier: Yes, we were taking a walk through the Ouddaïas gardens in Rabat, in which there were artisans. We stopped in front of an old man and an adolescent who was forging under his grandfather's directive. The child told his grandfather that we were with a Sloughi. The elder asked that we bring the Sloughi close to him. He wandered with his hands over the Sloughi for a long time. He told the child to forge it. The child was forging, was waiting for the object to cool, presented it to the elder who examined it with his hands, then indicated the corrections to make. It took a long time but a stylized Sloughi emerged from these four hands which then was offered to us.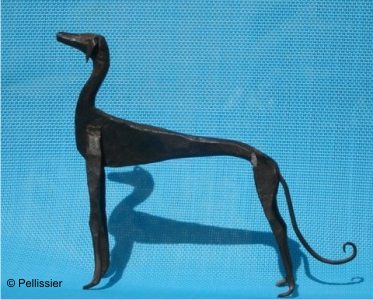 Wrought iron statue forged by a young artisan in Rabat. © Pellissier
Dominique de Caprona: As you know, since Morocco has taken the Sloughi standard in charge, certain coat colors which were allowed previously no longer are, such as uniformly white, blue/grey mantle and brown mantle coats. Did you encounter Sloughis in those colors and what do you think of these restrictions?
Sophie Pellissier: I had a Sloughia Nejmaa with a blue grey coat tending to charcoal grey almost black in winter. She came from the region of Taroudant and this color was found in forested regions. Naama, sand black mantle and el Amrane des Ouled D'Lim, sand black mask, produced blue, whose coats in Winter were almost black. It was not frequent, but a sand carrier for blue is very recognizable; this sand is very slightly silver. I did not encounter brown mantles, only one uniformly white coat with brown nose, at Mr. Bouchard d'Esquieu's who himself also had a blue mantled Sloughia. These coats had all been recognized by the judges Pascon (Mrs Pascon was secretary of the Société Centrale Canine Marocaine), including the white - Mr. Pascon having illustrated this recognition with the story of a white Sloughi in the deep South who had died of grief on his master's grave. I have to say that it was Dr. Michel Gaudois who had encouraged me to breed blue. He made me sell a few in his region I think, since the buyer had come to pick it up coming off the boat.
Then one day Rabat decided that these coat colors had to be excluded from the standard. To my knowledge, no scientific reason was given.
Regarding the traditional breeding, this constituted a lack of understanding. Individually, or depending on the region, the Moroccans favoured a color over another; the Sloughis with this coat were totally accepted, since they name this coat "R'mad", which mean "ash colored" or "R'madihasi" if it is a Sloughia. I wonder how many specimens have been destroyed because of the exclusion, in a country where the Sloughi is endangered.
Dominique de Caprona: Elyse Rhodes Goudineau had told me that she had had a very rare color in her breeding, the coat with blue mantle. I myself have seen a blue mantled Sloughia at the Moussem in Marrakech in 2008. Do you think one should preserve this coat color?
Sophie Pellissier: Evidently, I think. If the blue is a defect, it has to be shown scientifically. Why would the Sloughi be the only victim of this exclusion, when on finds this coat color in other breeds?
I read at the time it was published in the 70's, I think, a very interesting study done by American geneticists, entitled "Mantle Color in the Dog", edited in English. They were taking the example of the blue or brown Doberman, colors systematically eliminated at birth because they were wrong; when in fact, they were saying, one should have worked with these specimens, which this laboratory did, sponsored by I can't remember if it was Rothschild or Rockfeller (one should be able to find out). Now one finds blue and brown Dobermans. The Société Centrale Canine Marocaine's attitude does not seem to be a very scientific approach, which does not fail to surprise me with a veterinarian at its head.
Dominique de Caprona: Didn't you have yourself a blue Sloughia who won a Best in Show at a Moroccan show?
Sophie Pellissier: Exactly, under the authority of Mr. and Mrs. Pascon, high priests of the Société Centrale Canine Marocaine. It was at the show in Casablanca in 1974,Velezia des Grimoires de Kerfa (El Amrane x Naama). Velezia's mantle darkened or lightened depending on the season; the same was true for her great niece Afrita. El Amrane was a carrier for blue. It is certain. Voucka had a blue mantle as well; she was a half sister of Velezia (Amrane x R'Mila). Nejmaa, originally from Taroudant, was the only one with an entirely DARK blue coat.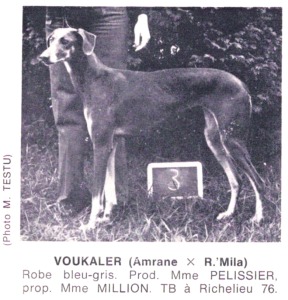 Voucka des Grimoires de Kerfa, blue mantled Sloughia , La Vie Canine 1977
(and not Voukaler, printing mistake in the name)
Dominique de Caprona: When you look at Sloughis being currently bred in Europe, what do you think of them? Do you think there is a drift away from the type you knew? Or do you think that some of us have succeeded in preserving the type of Sloughi you were familiar with?
Sophie Pellissier: On the whole, it does not appear to be very homogeneous nor particularly coherent to me. A same kennel presents sometimes Sloughis of different types. I think this stems from the strayings at a certain period due to the contribution of Azawakh, perhaps also of Salukis, and it is not easy to get rid of it. Now it seems to be the right thing to do to say that one has Azawakh blood, when before one would have hidden it. There are many specimens which are too light, the heads are very often too narrow with ears that are too long, necks which are excessively long. It is my opinion and it commits me alone.
The Sloughi is an elegant dog but it should not give the aspect of weakness that one sees. I do not know why one lets the Sloughi evolve in that direction. Your Sloughis please me because this is what I have known in Morocco, this is what I was taught to love and recognize. I am sincere.
We should perhaps take as an example the Arabs (from Arabia) who breed horses; they do not mix the types. A Mouniki horse will not be mated with a Saklaoui or a Koaïlan. The mating of a Saklaoui and a Koaïlan is possible, because they have the same type. The head is the same. One is more lightly built than the other. See the difference of head with a Mouniki, the racing horse. It is perhaps thus that one should work with Sloughis, cross the mountain Sloughi and the desert Sloughi with each other, because they are of the same type in spite of differences in size, and not cross with other sighthounds of different types.
Dominique de Caprona: I have a lot of respect for the Sloughis you have bred. Which were then for you the most important criteria of selection?
Sophie Pellissier: I think it is the Expression of the breed which goes first through the head. This is why it is hard for me to find my way with today's Sloughis. "When there is a Sloughi somewhere", Hadj KH told me, "he comes to find my eye, and my eye tells me if he is beautiful." The hunters did not wait for the creation of canine societies, the judges and the medals, to breed and select this breed. One must fear that they loose their knowledge, no doubt empirical, transmitted from generation to generation, if it hasn't already happened. It looks as if Sloughis in North Africa, in short in Morocco, are formatted for the show. Will they present in a ring a Sloughi who broke the tip of his tail while hunting? And, however, I remember a hunter of whom I was making observation that it was a shame that his pretty Sloughia did not have beautiful ears. "Katsayed", he responded in a lashing tone. "She hunts". I held on to the lesson.
Dominique de Caprona: Would you even have some advice to give to today's Sloughi breeders?
Sophie Pellissier: Yes, outcrossing back to the roots and to accept going back a bit in time, to abandon a few generations of registration in the Stud Book. I ascertained that myself, with Wargas, who was my choice in Hourria's litter. This is what I have tried my best to say when I was in the Sloughi world. But I was preaching in the desert**. However, in view of the last results of the Sloughia you related to me and a result of outcrossing, it is really in this direction that one needs to work, if one wants to preserve this breed in its integrity, but you did not wait for me to do that.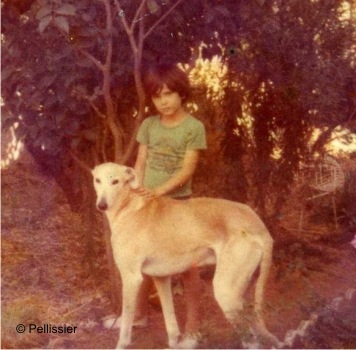 S'Altair, son of Quitus
Sophie Pellissier had gone to pick-up S'Altair before he was euthanized in Agadir by his French owners, because he hunted!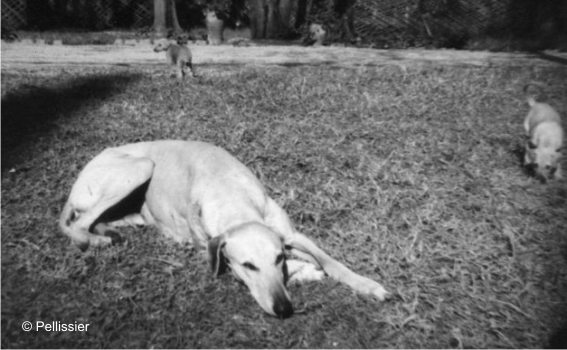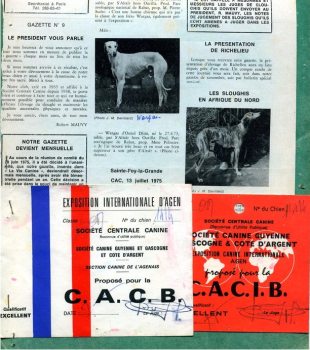 Wargas d'Ouled D'Lim**, a superb exemple of outcrossing to the roots, winner of CACIBs, La Vie Canine 1975
By S'Altair (of French breeding) out of Hourria of traditional Moroccan breeding, region of Marrakech.
Dominique de Caprona: Which would be the anecdote of your encounter with this breed in Morocco which left you with a very strong and indelible memory?
Sophie Pellissier: That which I talked about at the beginning of this interview, my encounter with Oudded and Ghazella. It is an imperishable memory!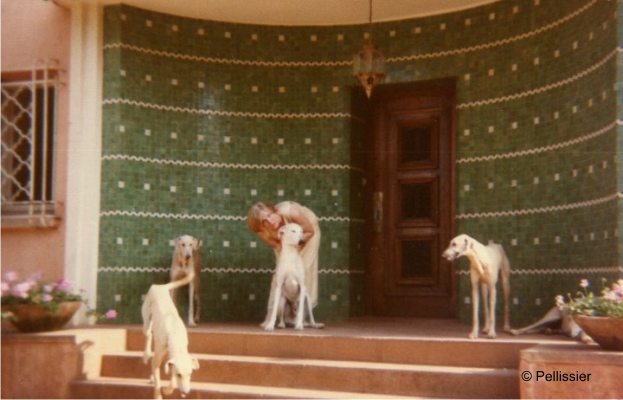 Sophie Pellissier and her Sloughis, Meknès © Pellissier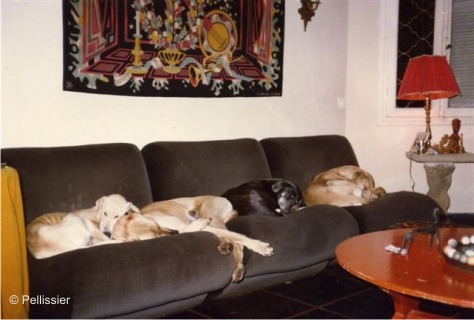 Nap after the hunt © Pellissier
From left to right: Yasmina, Zadig and Afrita des Grimoires de Kerfa and Wargas d'Ouled D'Lim*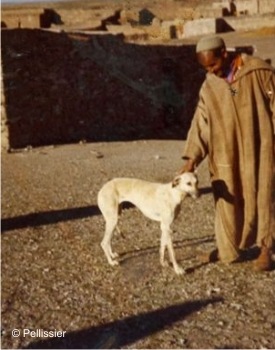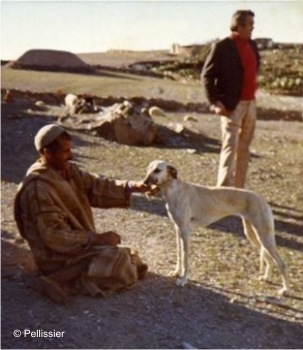 Ouled D'Lim hunters in the South © Pellissier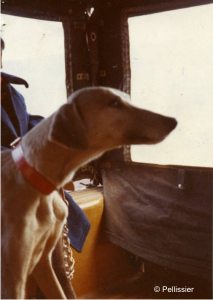 Arganiah of Goulimine © Pellissier

English checked by Jack McGuffin, M.Ed.

Sophie Pellissier's note

**In 1975 Mr.Przezdziecki picked up on this idea which was close to my heart, at least that is what I thought, Mr.Przezdziecki having asked me to bring him a brindle village Sloughia. The future demonstrated that he "outcrossed" to sighthounds which came from another continent......

Authors' notes

** "d'Ouled D'Lim" is the name of Dr. Raymon's kennel, director of Temara's zoo. In this case, this name relates to a tribe in the North and has nothing to do with the "Ouled D'Lim" of this interview, which belong to a tribe in the South.
**"Mektoub", Destiny, used here in the sense of a kind of resignation, "If God wills", if it is not going to happen it will not happen.