| Sloughi World | | Forum | Pedigree Database | Impressum |
Arts/Culture
Sculptures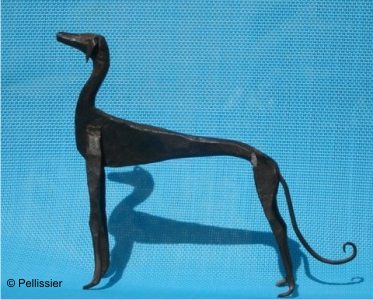 © Pellissier
Statue en fer forgé par un jeune artisan à Rabat
L'histoire de cette statue par Sophie Pellissier:
Nous nous promenions un jour avec un sloughi dans les jardins des Ouddaïas à Rabat, dans lequel se trouvaient des artisans.
Nous nous sommes arrêtés devant un vieux monsieur et un adolescent qui forgeait sous la directive de son grand père.
L'enfant dit à son grand père que nous étions avec un sloughi. Le vieillard aveugle demanda qu'on approche le sloughi de lui.
Il promena longuement ses mains sur le sloughi, il dit à l'enfant de le forger.
L'enfant forgeait, attendait que l'objet soit refroidi, le présentait au vieillard qui l'examinait avec ses mains, puis indiquait les corrections à apporter.
Ce fut long mais un sloughi stylisé sorti de ces quatre mains qui ensuite nous fut offert.
Wrought iron statue forged by a young artisan in Rabat
The story of this statue by Sophie Pellissier:
We were taking a walk through the Ouddaïas gardens in Rabat, in which there were artisans.
We stopped in front of an old man and an adolescent who was forging under his grandfather's directive.
The child told his grandfather that we were with a Sloughi. The elder asked that we bring the Sloughi close to him.
He wandered with his hands over the Sloughi for a long time. He told the child to forge it.
The child was forging, was waiting for the object to cool, presented it to the elder who examined it with his hands, then indicated the corrections to make.
It took a long time but a stylized Sloughi emerged from these four hands which then was offered to us.
Private Collection, France
Submitted by Sophie Pellissier
| Copyright:

2000-2010, all rights reserved. |