SHI'RAYÂN celebrates 4 years of incredible racing
1998-2002
CH. FAHEL SHI'RAYÂN
Born January 1, 1997
ASFA Foundation Coursing Champion
Oval Racing Champion
SFAA Courser of Merit
Superior Gazehound Racing Champion IV
Supreme Oval Racing Champion



#1 ALL BREEDS IN AMATEUR SPRINT RACING 2001
K'LAR AWARD 2001
with a record of 55 National points



#1 ALL BREEDS IN AMATEUR SPRINT RACING 2002
K'LAR AWARD 2002
beating his previous record with 57.5 National points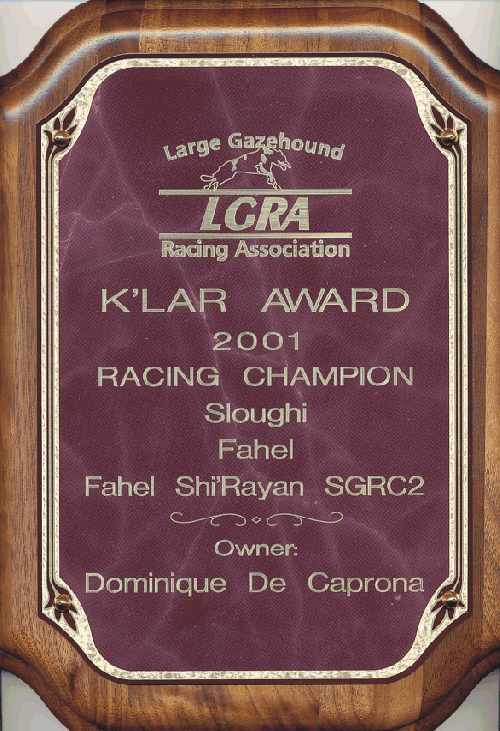 Fahel has raced in 39 meets since he began racing in May of 1998.
He has won 33 of those meets.
His first 4 meets were won twice by his aunt A'Ssissa Shi'Rayân, SGRC
and twice by his sire Aswad Shi'Rayân, SGRC . In 1999 he sprint raced once and won, in 2000 he did not sprint race.
He won 15 meets in 2001, and 15 in 2002. He was recently defeated twice by his young nephew I'saar Shi'Rayân.
He ran undefeated from September 1998 to September 2002.
He was never Off Course, never Scratched, never Did Not Finish, never Disqualified!!
Competing in entries of 5, 8, 9, 11 and 16 Sloughis
He has set milestones in the sport of American Amateur Sprint Racing by becoming
the only Sighthound to receive the K'Lar Award twice
The first ever Superior Gazehound Champion IV within LGRA
The first Sighthound to have achieved 100 National Points
He is currently
# 1 All times all breeds 2002 within the Large Gazehound Racing Association (LGRA) with 127.50 National Points
Fahel has been awarded the prestigious award for the #1 performing Sloughi
4 times so far
The Nubia Memorial Cup 1998, 1999, 2001, 2002
Last but not least Fahel's record in non-commercial competitive sports
is matched by a wonderfully loving and cuddly disposition which makes him a pleasure to live with
Fahel is by
top producing sire
SBIS, multi BIS, FCI International Ch.
Aswad Shi'Rayân, ORC, SGRC, FCC, TT
out of German Import
Ch. Chamisa Schuru-esch-Schams, FCC, ORC, GRC
He is the sire of
Nibal, Najeeb, Nayyir, Najeeba, Negma and Na'Ooma Shi'Rayân