Hoope, March 27
1. Cimba Schuru-esch-Schams Dog (Fechner D) 112
2. Ahabba Adfal al Rijah Bitch (Bildstein NL) 107
3. Sha'ir Schuru-esch-Schams Dog (Fechner D) 48

---
Ostercappeln April 10
1. Xyra Schuru-esch-Schams Bitch (Brauer D) 72
2. Zarif Schuru-esch-Schams Dog (Rauert/Bachler-R. D) 54
3. E'Bazou el Ahtal Dog (Knudsen D) 44

---
German Coursing Championship (Deutsche Coursing Sieger), Berlin, April 24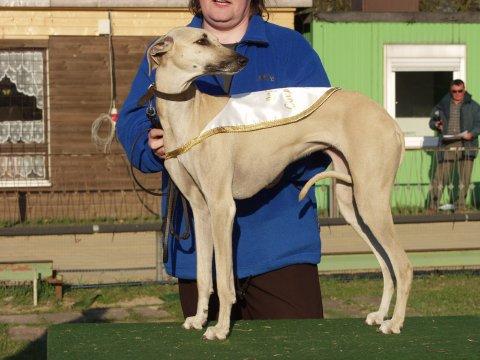 © Zuszek 2005
Bitches(5)
DCS Bakhta Baha'an Sheik el Arab (Zuszek D) 162
2. Yashaya Jameilon Qeil Jezira (Kopriva D) 161
3. Bishara Mahanajim (Schlenkrich D) 156
4. Rouicha de Slouaz (Schlenkrich D) 138
Dogs(4)
DCS Chafir al Hakim Sheik el Arab (Simboeck D) 156
2. Cimba Schuru-esch-Schams (Fechner D) 155
3. Bashir Mahanajim (Schlenkrich D) 155

---

Huenstetten/Robstock, May 7-8
Mixte (12)
1. Bishara Mahanajim Bitch (Schlenkrich, D) 111
2. Bashir Mahanajim Dog (Röhrig D) 108
3. Bakhtawar Sheik el Arab Bitch (Rudat D) 107
4. Cimba Schuru-esch-Schams Dog (Fechner D) 107
5. Bahi Mahanajim Dog (Kraft D) 106
6. Fachir Schuru-esch-Schams Dog (Aumüller/Knopf D) 105

---

Ingolstadt, June 6
1. Intissar´s Kibban Dog (Medlinger D) 47

---

Wismar, June 12
Bitches (4)
1. Bakhtawar Sheik el Arab (Rudat D) 112
2. Bakhta Baha'an Sheik el Arab (Zuszek D) 108
3. Rais Siyada Rainine(Lauer D) 106
4. Djahra al Din sheik el Arab (Lauer D) 98

Beauty and Performance Rais Siyada Rainine (Lauer)

---

Tuettleben June 26
Bitches (2)
1. E´Sauda el Ahtal (Riedel D) 94

---

Nürnberg, July 24
Mixte
1. Jamila Schuru-esch-Schams Bitch (Krüger D) 92
2. Intissar's Kibban Dog (Meidlinger D) 90
3. Inaya Schuru-esch-Schams Bitch (Krüger D) 89
4. Waris Schuru-esch-Schams Dog (Balss D) 83
5. Aruma Mahanajim Bitch (Fiedler D) 82
6. Tamra Schuru-esch-Schams Bitch (Krüger D) 82

---
Zschepplin, July 31
Mixte (4)
1. Chafir al Hakim Sheik el Arab Dog (Simböck D) 107
2. El Jahrousse Sheik el Arab Dog (Simböck D) 104
3. Bint Saariyah Sheik el Arab Bitch (Lauer D) 75
4. Djahra al Din Sheik el Arab Bitch (Lauer D) 71

---

Ostercappeln August 7
Mixte (4)
1. E' Bazou el Ahtal Dog (Knudsen D) 94
2. Arabija al Sahraoui Bitch (Kosmalski D) 93
3. Xyra Schuru-esch-Schams Bitch (Brauer D) 52
4. Zarif Schuru-esch-Schams Dog (Rauert/Bachler-R. D) 41

---
Berlin August 7
Mixte (5)
1- Bint Saariyah Sheik el Arab Bitch (Lauer D) 114
2- Djahra al Din Sheik el Arab Bitch (Lauer D) 110
3- El Jahrousse Sheik el Arab Dog (Simböck D) 107
4- Bakhtawar Sheik el Arab Bitch (Rudat D) 107

---

Koeln, September 18
Mixte (8)
1. El Halima Schuru-esch-Schams Bitch (Cosan D) 103
2. E' Sauda el Ahtal Bitch (Riedel D) 98
3. Issam Schuru-esch-Schams Dog (Knopf/Aumüller D) 92
4. E' Bazou el Ahtal Dog (Knudsen D) 92
5. Ubari Schuru-esch-Schams Dog (Rackov D) 91
6. Chabib Schuru-esch-Schams Dog (Knopf/Aumüller D) 87

---

FCI European Championship Coursing 2005, Hoope September 24-25
(418 dogs entered, of 11 different breeds from 12 countries)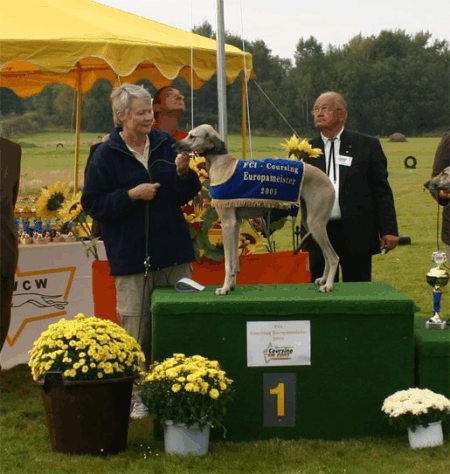 Ferda Kamar al Akbar © Caroline van Zante 2005
Dogs (10)
EKC 2005, CACIL Intissar's Gazal (Herold, D) 538
RCACIL El Jahrousse Sheik el Arab (Simbock, D) 535
3. Rahman Chah Name de la Cité du Guerrier (Martin, F) 534
4. Chafir al Hakim Sheik el Arab (Simbock, D) -533
5. Aslan Ksar Ghilane (Hasenstab, D) 532
6. Intissar's Charif (Galletti, I) 525
Bitches (15)
EKC 2005, CACIL Ferda Kamar al Akbar (Siebel/ den Boer NL) 547
RCACIL - Bakhtawar Sheik el Arab, (Rudat, D) 533
3 . Yashaya Jameilon Qeil Jezira (Kopriva, D) 530
4 . Urika N'Assifa D'lmi-N- Tanout (Dolot, F) 530
5. Rouicha de Slouaz (Schlenkrich, D) 526
6 .Ta'yyana Ana Waasama Aswidah of Love Arab Beauty (Martin, F) 520
The 2 courses, each about 1000 meters, were very demanding; one consisted of grassland, with shrubs and clumps of high grass
and the other was in a sand pit with steep slopes, water in the center and the dogs had to run up one side to get to the second half of the parcours.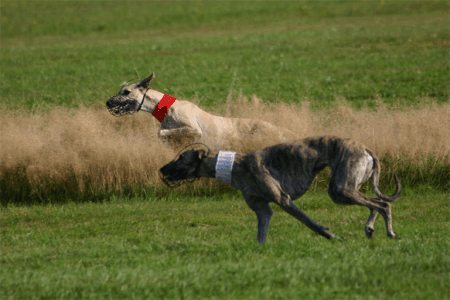 Ferda Kamar al Akbar ~ Baktha Bahaán Sheik el Arab (red), Bakhtawar Sheik el Arab (white)
© Caroline van Zante 2005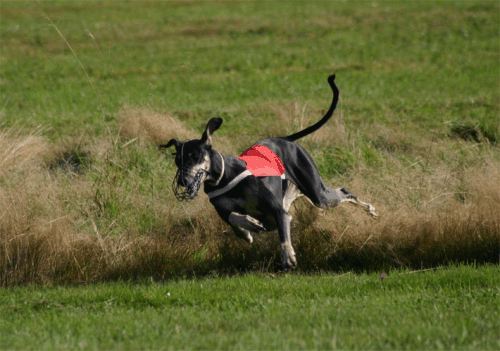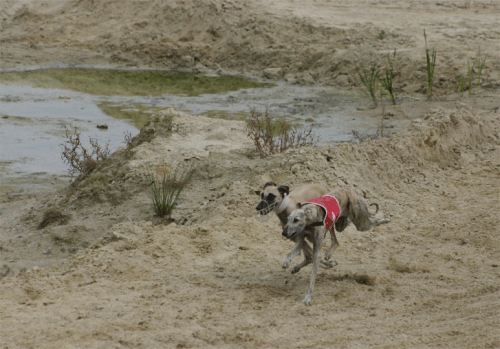 Ta'yyana Ana Waasama Aswidah of Love Arab Beauty ~ Yashaya Jameilon Qeil Jezira (white),Urika N'Assifa D'lmi-N- Tanout (red)
© Caroline van Zante 2005

---

Schwarzenfeld, October 14
Mixte
1. Chirina Schuru-esch-Schams Bitch (Rupp D) 96
1. Intissar's Kibban Dog (Meidlinger D) 93

---

Landstuhl October 30
Mixte (3)
1. Aslan Ksar Ghilane Dog (Hasenstab D) 102
2. E' Sauda el Ahtal Bitch (Riedel D) 92


COURSING 2004
Hoope, April 11
1. Yashaya Jameilon Qeil Jezira Bitch (Kopriva) 109 CACC
2. Baschar Schuru-esch-Schams Dog (Hilkenbach) 105 Res CACC
3. Cimba Schuru-esch-Schams Dog 104 (Fechner)
4. Sha`ir Schuru-esch-Schams Dog 102 (Fechner)

---

Wismar, April 17-18
dogs(2) national
1- Amir Madina al-fadila (Nawrotzki) 101
2- Weli Ahd Nuri al Baida (Schumann) 79

---
Coursing Club Schleswig Holstein, April 25
1. Weli Ahd Nuri al Baida Dog (Schumann) 92
Wins also Beauty and Performance.

---

Frankfurt, WRU, May 1-2
Bitches (5)
1. Bakhtawar Sheik el Arab (Rudat) 158
2. Bakhta Baha'an Sheik el Arab (Zuszek) 156
3. Bishara Mahanajim (Schlenkrich) 155
4. Rouicha de Slouaz (Schlenkrich) 146
5. Rais Siyada Rainine (Lauer) 139
Dogs (7)
1. Aslan Ksar Ghilane (Hasenstab) 157
2. Labib Schuru-esch-Schams (Gehret) 154
3. Mudir Schuru-esch-Schams (Hasenstab) 153
4. Vasil Schuru-esch-Schams (Hasenstab) 153
5. Waris Schuru-esch-Schams (Balss) 153
6. Awwalam Mahanajim (Kraft) 150

---

Berlin, May 20
Dogs (2)
1. Intissar's Gazal (Herold) 112
2. Intissar's Choukri (Herold) 107

---

Großer Preis von Nord Rhein Westphalen, Issum May 23
Bitches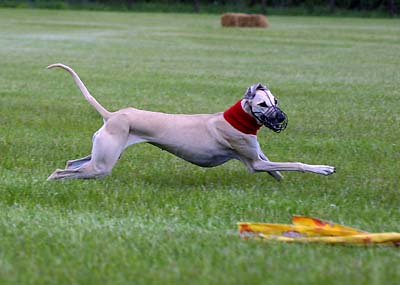 Bakhtawar and Chami Shams Sheik el Arab on the lure ~ Bakhta Baha'an Sheik el Arab chasing it
Photo ©Enric Mammen ( www.hundephoto.de)

1. Bakhtawar Sheik el Arab (Rudat) 112 CACC
2. Bakhta Baha´an Sheik el Arab (Zuszek) 104 R-CACC
3. Chami Shams Sheik el Arab 100 (Lauer)

Beauty and Performance Bakhta Baha´an Sheik el Arab

---

Ingolstadt, May 23
Bitches (2)
1. Dakiya Schuru-esch-Schams (Gill) 101
2. Chirina Schuru-esch-Schams (Rupp) 95

---

Volkmarsen, May 23
Mixte
1. Cimba Schuru esch Schams Dog(Fechner) 102
2. Aslan Ksar Ghilane Dog (Hasenstab) 100
3. Bishara Mahanajim Bitch (Schlenkrich) 99
4. Mudir Schuru esch Schams Dog (Hasenstab) 98
5. Awwalan Mahanajim Dog (Kraft/ Schlenkrich) 98
6. Dja'far el Ahtal Dog (Knudsen) 98

---

Tuettleben, May 31
Bitches (1)
1. El Haifa Schuru-esch-Schams (Trolp) 103

---

Wismar, June 6
Mixte (5) 750 m
1. Rais Siyada Rainine Bitch (Lauer) 101
2. Amir Madina al-fadila Dog (Nawrotzki) 101
3. Chami Shams Sheik el Arab Bitch (Lauer) 98
4. Waris Schuru-esch-Schams Dog (Balss) 91

---

Wiesenburg, June 20
Mixte (2)
1. Chami Shams Sheik el Arab Bitch (Lauer) 110
2. Abu Azhar Sheik el Arab Dog (Lauer) 107

---

Ostercappeln, June 20
Mixte
1. Aslan Ksar Ghilane Dog (Hasenstab) 94
2. Dja'far el Ahtal Dog (Knudsen) 90
3. Masuna Schuru-esch-Schams Bitch (Brauer) 88
4. Vasil Schuru-esch-Schams Dog (Hasenstab) 85
5. Mudir Schuru-esch-Schams Dog (Hasenstab) 84
6. Xyra Schuru-esch-Schams Bitch (Brauer) 6

---

Nürnberg, July 18
Bitches(2)
1- Dakiya Schuru-esch-Schams (Gül D) 96
2- Chirina Schuru-sch-Schams (Rupp D) 95

---

Wiesenburg, August 1
Bitches(1)
1- Chirina Schuru-esch-Schams (Rupp D) 96

---

Hoope, September 11-12
Mixte (6)
1- Wilaya Nuri al Baida Bitch (Jacob-Meyer D) 90
2- Vasana Nuri al Baida Bitch (Jacob-Meyer D) 83

---

Köln, September 12
Mixte (5)
1- Chabib Schuru-esch-Schams Dog (Knopf/Aumüller D) 104
2- Fachir Schuru-esch-Schams Dog (Aumüller/Knopf D) 104
3- El Kalima Schuru-esch-Schams Bitch (Cosan D) 98
4- Timur Schuru-esch-Schams Dog (Mörch D) 94
5- Ubari Schuru-esch-Schams Dog (Rackov D) 82

---

Volkmarsen, September 19
Mixte (4)
1- Aslan Ksar Ghilane Dog (Hasenstab D) 106
2- Mudir Schuru-esch-Schams Dog (Hasenstab D) 106
3- Vasil Schuru-esch-Schams Dog (Hasenstab D) 101

---

Sachsenheim, September 26
mixte (1/1)
1- Labib Schuru-esch-Schams Dog (Gehret D) 101

---
German Coursing Championship, Issum, October 9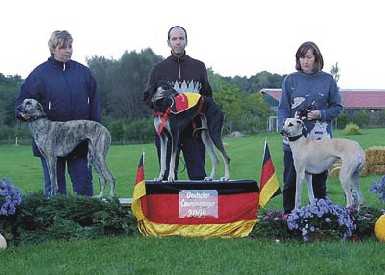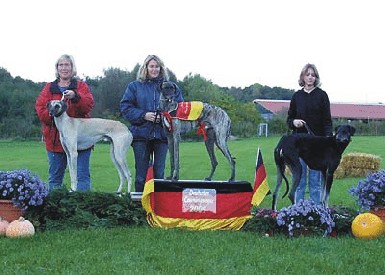 Left winners Bitches:Bakhtawar Sheik el Arab,Bishara Mahanajim, Bakhta Baha`an Sheik el Arab
Right winners dogs: Aslan Ksar Ghilane,Cimba Schuru-esch-Schams, Vasil Schuru-esch-Schams
Photos ©Enric Mammen (www.hundephoto.de)

Bitches (5/5)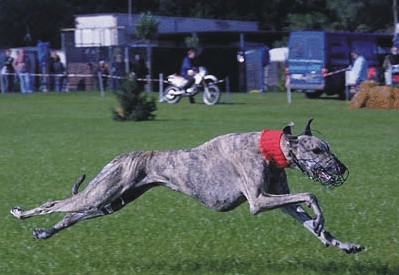 Bakhtawar Sheik el Arab and Bishara Mahanajim
Photos ©Enric Mammen (www.hundephoto.de)
1- Bishara Mahanajim (Schlenkrich) 168
2- Bakhtawar Sheik el Arab (Rudat) 166
3- Bakhta Baha`an Sheik el Arab (Zuszek) 164
4- Yashaya Jameilon Qeil Jezira (Kopriva) 160
5- Rouicha de Slouaz (Schlenkrich) 152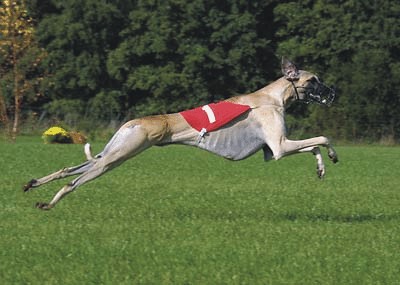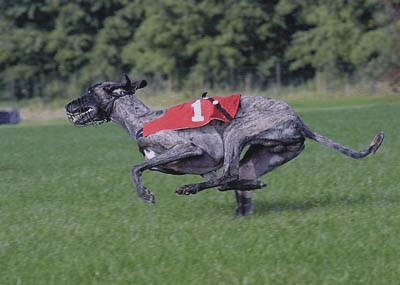 Aslan Ksar Ghilane and Cimba Schuru-esch-Schams
Photos ©Enric Mammen(www.hundephoto.de)
Dogs (10/10)
1- Cimba Schuru-esch-Schams (Fechner) 173
2- Aslan Ksar Ghilane (Hasenstab) 164
3- Vasil Schuru-esch-Schams (Hasenstab) 160
4- Baschar Schuru-esch-Schams (Hilkenbach) 159
5- Fachir Schuru-esch-Schams (Aumüller/Knopf) ?
6- Chabib Schuru-esch-Schams ( Aumüller/Knopf ) ?
7- Mudir Schuru-esch-Schams (Hasenstab) 157
8- Chafir al Hakim Sheik el Arab (Simböck) 157
9- Ubari Schuru-esch-Schams (Rackov) 149
Sha ir Schuru-esch-Schams (Fechner) lame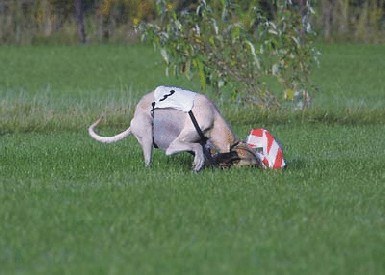 Got it!!
Photos ©Enric Mammen (www.hundephoto.de)

---

Berlin, DWZRV Championship, October 16-17
Dogs(3) 900 m
1- Cafir al Hakim Sheik el Arab (Simboeck D) 157
2- Intissar's Gazal (Herold D) 155
Bitches(4) 900 m
1- Bakhtawar Sheik el Arab (Rudat D) 164
2- Bakhta Baha'an Sheik el Arab (Zuszek D) 159
3- Chami Shams Sheik el Arab (Lauer D) 157

---

Schwarzenfeld, October 16
Bitches (1)
1- Chirina Schuru-esch-Schams (Rupp D) 95

---

Offenbach, Mainufercoursing, October 24
Mixte(4)
1- Bishara Mahanajim Bitch (Schlenkrich D) 97
2- Rouicha de Slouaz Bitch (Schlenkrich D) 94
3- Bashir Mahanajim Dog (Schlenkrich D) 93

---

Mammendorf October 31
Bitches (2)
1- Tamra Schuru-esch-Schams (Krüger D) 95
2 Inaya Schuru-esch-Schams (Krüger D) 89