EXPOSITIONS>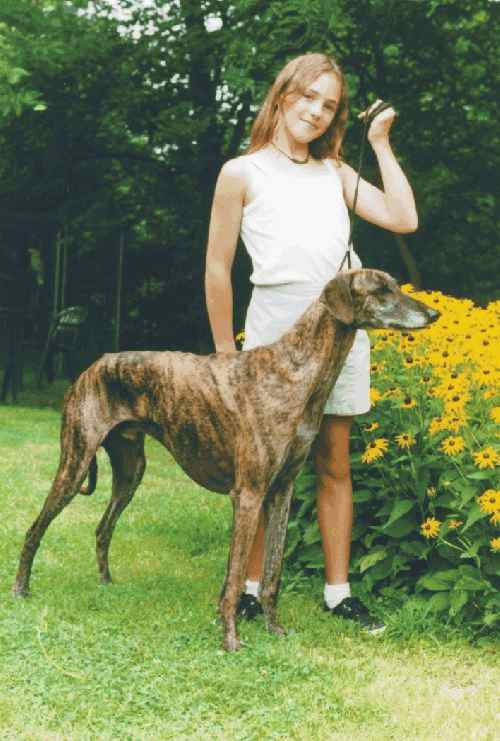 Ch. Batal Shi'Rayân, World Winner Dog 1997 © Dominique de Caprona
---
RESULTATS 2003
Sloughi Fanciers Association of America
Exposition Spéciale Internet 2003
25 Sloughis enregistrés !!
habitant la Finlande, la Hollande, l'Angleterre, les USA et la Suede,
provenant de 8 élevages
Juges:
Classes adultes: Jack McGuffin (USA)
Chiots: Gisela Cook-Schmidt (USA)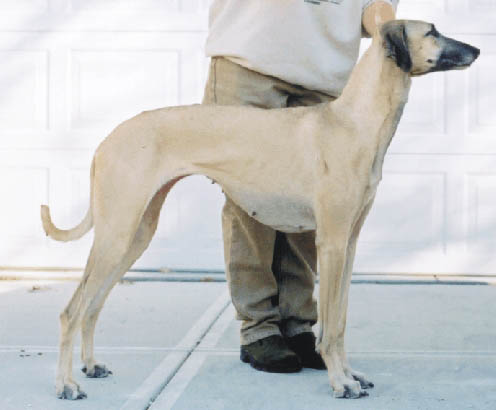 Ch. Hayifa Shi'Rayan © Dominique de Caprona 2002 ~ Bashira Sheik el Arab © Helene Duncan 2002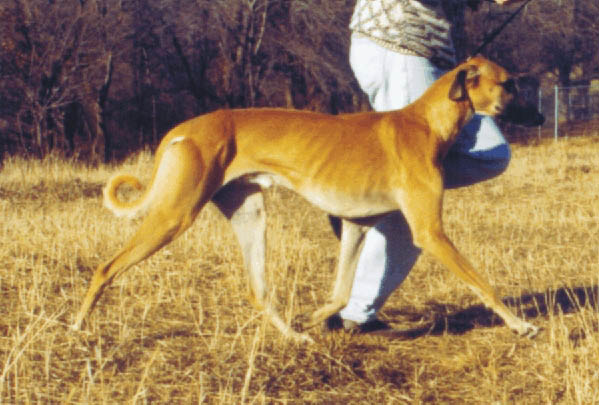 Jaah Shi'Rayan © Dominique de Caprona 2002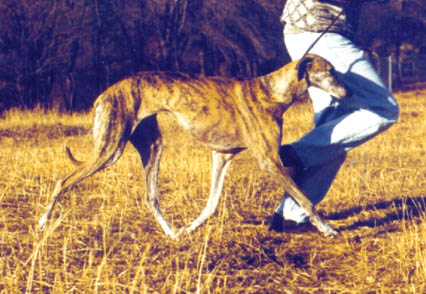 Ch. Bouthayna Shi'Rayan © Dominique de Caprona 2002


Vainqueurs
Best in Virtual Specialty Show: Ch. Hayifa Shi'Rayân, GRC, ORC (de Caprona, USA)
Winners Dog, Best Of Winners, Best of Opposite Sex: Jaah Shi'Rayân (de Caprona, USA)
Winners Bitch: Bashira Sheik el Arab (Duncan, Netherlands)
Best Veteran: Ch. Bouthayna Shi'Rayan, GRC, SORC, FCM (de Caprona, USA)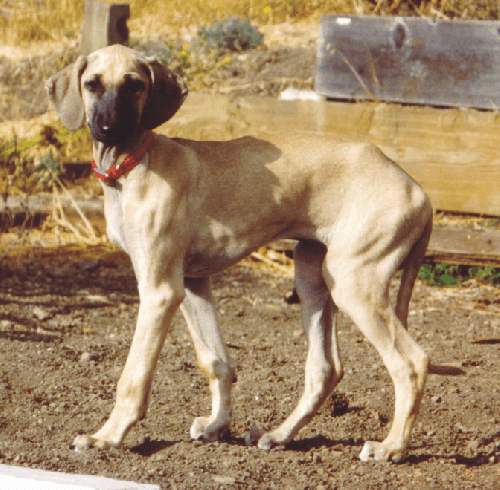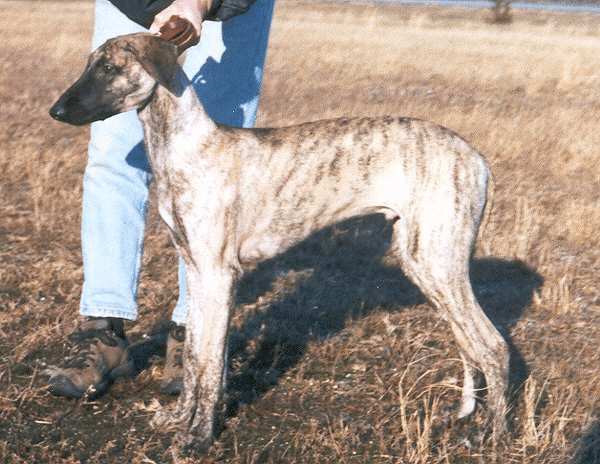 Negma Shi'Rayan © Michal Dubrovsky 2002 ~ Shi'Rayan's Nayyir at Mazoe © Ann Chamberlain 2002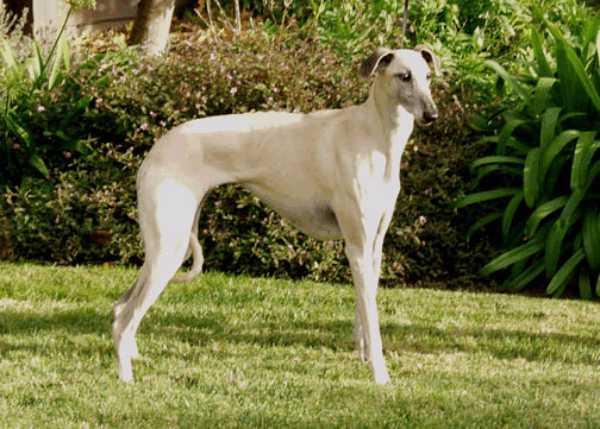 Farah Shi'Rayan © Alan Segal 2002

Best Puppy In Show: Negma Shi'Rayan (Dubrovsky, USA)
Best of Opposite Sex Puppy : Shi'Rayân's Nayyir at Mazoe (Chamberlain/de Caprona, USA)
Best Altered: Farah Shi'Rayan (Segal, USA)

cliquez ici, le site de SFAA, pour voir tous les chiens présentés

---
UKC Multi breed shows, Garden State Kennel Club, Vineland, New Jersey
18-19 Janvier
Show 1, 18 Janvier
Juge: Warren Shivers (USA)
Puppy Class Dogs: Winners Dog, Best Male, Shi'Rayân's Nayyir at Mazoe (Chamberlain/de Caprona)
Reserve Winners dog Najeeb Storm Shi'Rayân (Brady)
Open Class bitches: Winners Bitch, Best of Winners, BOB, Group 4 Latiifa Shi'Rayân (Brady)
Show 2, 18 Janvier
Juge: Ronald Sacca (USA)
Puppy Class Dogs: Winners Dog, Best Male, Shi'Rayân's Nayyir at Mazoe (Chamberlain/de Caprona)
Reserve Winners dog Najeeb Storm Shi'Rayân (Brady)
Open Class bitches: Winners Bitch, Best of Winners, BOB, Group 4 Latiifa Shi'Rayân (Brady)
Latiifa devient troisième UKC Champion de la race
Show 3, 19 Janvier
Juge: Herbert Rosen (USA)
Puppy Class Dogs: Winners Dog, Best Male, Shi'Rayân's Nayyir at Mazoe (Chamberlain/de Caprona)
Reserve Winners dog Najeeb Storm Shi'Rayân (Brady)
Champion Class bitches: BOB, Group 2 Latiifa Shi'Rayân (Brady)

---
IABCA cluster of shows
Vallejo, California
25-26 Janvier
Show 1, 25 Janvier
Juge: Sylvia Hammerstrom (Canada)
Puppy Class Bitches: Very Good 1, BOB Puppy, Group 3 Hound Puppies, Negma Shi'Rayân (Dubrovsky)
Champion Class bitches: Excellent 1, BOB, Group 3 Ibtsama Haifa Shi'Rayân (Dubrovsky)
Show 2, 25 Janvier
Juge: Margaret Alhino (USA)
Puppy Class Bitches: Very Good 1, BOB Puppy, Group 2 Hound Puppies, Negma Shi'Rayân (Dubrovsky)
Champion Class bitches:Excellent 1,BOB, Ibtsama Haifa Shi'Rayân (Dubrovsky)
Show 3, 26 Janvier
Juge: Steve Keating(USA)
Puppy Class Bitches: Very Good 1, BOB Puppy, Negma Shi'Rayân (Dubrovsky)
Champion Class bitches:Excellent 1,BOB, Group 3 Ibtsama Haifa Shi'Rayân (Dubrovsky)
Negma devient IABCA Junior Champion
et Ibtsama Haifa le premier IABCA Honor Champion Gold de la race

---
UKC Multi breed show, American Hairless Rat Terrier Club
Charlotte, North Carolina
28 Février
Juge: Monnie Sims (USA)

Puppy Class Dogs: Winners Dog, Best Male, Shi'Rayân's Nayyir at Mazoe (Chamberlain/de Caprona)
Reserve Winners dog Najeeb Storm Shi'Rayân (Brady)
Champion Class bitches: BOB, Group 3 Latiifa Shi'Rayân (Brady)

Shi'Rayan's Nayyir at Mazoe devient le 4ième UKC Champion de la race, et le plus jeune a obtenir ce titre
---
UKC All Breed Shows, Carolina Classic
Charlotte, North Carolina
1 et 2 Mars
Show 1, 1 Mars
Juge: Arlene Grimes (USA)
Champion Class Dogs: BOB, Group 4 Shi'Rayân's Nayyir at Mazoe (Chamberlain/de Caprona)

Show 2, 1 Mars
Juge: Richard Yates (USA)
Puppy Class Dogs: Best Male, Najeeb Storm Shi'Rayân (Brady)
Champion Class: BOB, Group 4 Shi'Rayân's Nayyir at Mazoe (Chamberlain/de Caprona)
Champion Class Bitches:Latiifa Shi'Rayân (Brady)
Show 1, 2 Mars
Juge: Teri Murphy (USA)
Champion Class Dogs: BOB, Group 2 Shi'Rayân's Nayyir at Mazoe (Chamberlain/de Caprona)


---
UKC shows, Mid-Atlantic Kennel Club
Chesterfield, Virginia
29-30 Mars

Show 1, 29 Mars
Juge: Patrea Pabst (USA)
Puppy Male:First, Best Male, Best of Winners, Najeeb Storm Shi'Rayan (Brady)
Group 4 (Rhodesian Ridgeback, Greyhound, Whippet, Sloughi)
Show 2, 29 Mars
Juge: Dennis Blickenstaff (USA)
Puppy Male: First, Best Male, Best of Winners, Najeeb Storm Shi'Rayan (Brady)
Group 4 (Rhodesian Ridgeback, Whippet, Greyhound, Sloughi)
Show 3, 30 Mars
Juge: Warren Shivers (USA)
Puppy Male: First, Best Male, Best of Winners, Najeeb Storm Shi'Rayan (Brady)
Best Of Group (Soughi, Whippet, Rhodesian Ridgeback)
Najeeb Storm part avant la competition BIS a cause du mauvais temps

Najeeb Storm devient le premier Sloughi mâle a gagner un BOG au sein de la UKC
---
UKC All Breed Shows, Michigan Classic
Marshall, Michigan
5-6 Avril
Show 1, 5 Avril
Juge: Delores Mattern (USA)
Senior Class dog: Best Male, Best of Winners, BOB, BOG Jaah Shi'Rayân (de Caprona)
Adult Class bitch: Best female, Winner Bitch, Hannan Shi'Rayân (de Caprona)
Show 2, 5 Avril
Juge: Patrick O'Donnell (USA)
Senior Class dog: Best Male, Best of Winners, BOB, GROUP 2 Jaah Shi'Rayân (de Caprona)
Adult Class bitch: Best female, Winner Bitch, Hannan Shi'Rayân (de Caprona)
Show 3, 6 Avril
Juge: Richard Yates(USA)
Senior Class dog: Best Male, Best of Winners, BOB, BOG Jaah Shi'Rayan (de Caprona)
4 races au niveau du Groupe; Barsoi, Greyhound, Sloughi, Whippet
Adult Class bitch: Best female, Winner Bitch, Hannan Shi'Rayan (de Caprona)
Show 4, 6 Avril
Juge: Louise Putzback (USA)
Senior Class dog: Best Male, Best of Winners, BOB, GROUP 2 Jaah Shi'Rayan (de Caprona)
4 races au niveau du Groupe: Barsoi, Greyhound, Sloughi, Whippet
Adult Class bitch: Best female, Winner Bitch, Hannan Shi'Rayan (de Caprona)

Jaah, présenté par Dr.B.Fritzsch, obtient le titre de UKC Champion a ces expositions
---
IABCA shows, Central Florida Fairgrounds
Orlando, Florida
3 - 4 Mai
Show 1, 3 Mai
Juge: Ms. Jane Roppolo (USA)
Veteran Class: BOB & Reserve BIS Veteran Faraascha Shi'Rayân (Newman-Kormendy)
Show 2, 3 Mai
Juge: Mr. Bud Haverstock (Canada)
Veteran Class:BOB & Reserve BIS Veteran Faraascha Shi'Rayân (Newman-Kormendy)
Show 3, May 4
Juge: Dr. Steven Keating (USA)
Veteran Class:BOB & BIS Veteran Faraascha Shi'Rayân (Newman-Kormendy)

BIS juges: Steven Keating, Bud Haverstock & Janet Wilcox.

Faraasha obtient son titre de IABCA Veteran Champion
---
UKC Premier Shows
Kalamazoo, Michigan
15-16 Juin
Show 1, 15 Juin
Juge: Mr. Ray Johnson(USA)
Champion Class Dog: BOS Jaah Shi'Rayân (de Caprona)
Adult Class Bitch:Best female BOB Hannan Shi'Rayân (de Caprona)
Senior Class Bitch: R-WB Munya Shi'Rayân (de Caprona)
Show 2, 16 Juin
Juge: June E. Pasko (USA)
Champion Class Dog: BOB Jaah Shi'Rayân (de Caprona)
Adult Class Bitch:Best female, BOS Hannan Shi'Rayân (de Caprona)
Senior Class Bitch: R-WB Munya Shi'Rayân (de Caprona)
---
IABCA shows, Purina Farms
Gray Summit, Missouri
June 21 - 22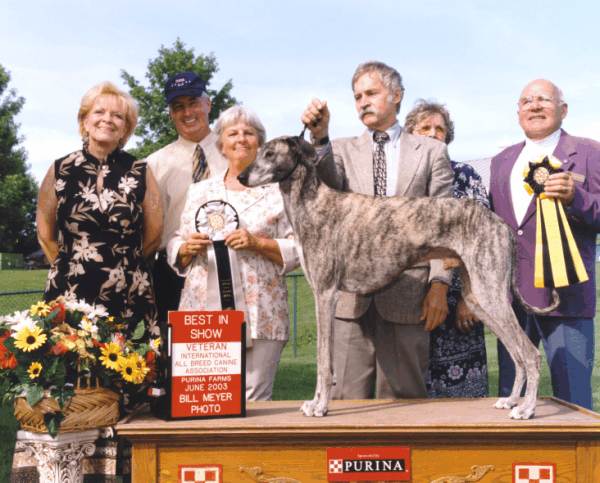 Show 1, 21 Juin
Juge: Ms. Lee Riddle(USA)
Open Class & Super Veteran Class: Excellent 1, BOB, Group 2, BIS veteran Aswad Shi'Rayân (de Caprona)
Show 2, 21 Juin
Juge: Dr. Steve Keating (USA)
Open Class & Super Veteran Class:Excellent 1, BOB, Group 2, BIS Veteran Aswad Shi'Rayân (de Caprona)
Show 3, 22 Juin
Juge: Ms Dona Cole (Canada)
Open Class & Super Veteran Class: Excellent 1, BOB, Group 2, BIS veteran , R-BIS Rare Breed Aswad Shi'Rayân (de Caprona)

Competition Groupe:
Beagle English (13cm), Black and Tan Coonhound, Bloodhound, Borzoi, Grand Griffon Vendéen, Irish Wolfshound, Rhodesian Ridgeback, Saluki, Sloughi.

Competition BIS Veterans:
Vizsla, Bloodhound, Alaskan malamute, German Pinscher, Mastiff, Siberian Husky, Skye Terrier, Coton de Tulear, Bichon frisé, Australian Shepherd dog, Sloughi.
BVIS Judges: Show 1 Ms. D.Cole and Ms. L.Riddle; Show 2 Dr.S.Keating & ?; Show 3 Mr. R.R.Beckwith and Ms. Gloria Kerr.

Competition BIS Race rare:
Cane Corso, South African Boerboel, Dogue de Bordeaux, Fila Brasiliero, German Pinscher, Presa Canario, Tibetan Mastiff, Japanese Chin, Mi Ki, Beauceron, Finnish Lapphund, Miniature Australian Shepherd, Shiloh Shepherd, Sloughi.

Aswad Shi'Rayan, a l'âge de 10 ans et 3 mois, devient IABCA International et Super Veteran Champion présenté par Dr.B.Fritzsch.
Aswad devient le premier Sloughi de l'histoire de la race a gagner coup sur coup 3 BIS Veteran.
---
UKC, Garden State Kennel Club
Centerton, New Jersey
13 Juillet
Juge: Ron Sacca
Champion Class dogs: BOB, Group 2, Shi'Rayân's Nayyir at Mazoe (Chamberlain/de Caprona)
Competition de Groupe: Rhodesian Ridgeback, Sloughi, Whippet.

UKC Fall Extravaganza Shows, Gold Coast United Dog Club
Davie, Florida
October 11-12 Octobre

Show 1, 11 Octobre
Juge: Jim Jones (USA)
Junior Class Dogs: Winners Dog, Best Male, BOB, Group 2, Najeeb Storm Shi'Rayân (Brady)


Show 2, 11 Octobre
Juge: Dee Mattern (USA)
Junior Class Dogs: Winners Dog, Best Male, BOB, Group 2, Najeeb Storm Shi'Rayân (Brady)

Show 3, 12 Octobre
Juge: Maude Tank (USA)
Junior Class Dogs: Winners Dog, Best Male, BOB, Group 1, Najeeb Storm Shi'Rayân (Brady)
---
UKC Multi breed shows, Middle Georgia Kennel Club
Perry, Georgia
8-9, Novembre 2003
Show 1, 8 Novembre
Juge: Ronald Sacca (USA)
Junior Class Dogs:Winners Dog, Best Male, Najeeb Storm Shi'Rayân (Brady)
Champion Class bitches: Winners Bitch, Best of Winners, BOB, BOG, Latiifa Shi'Rayân (Brady)
Show 2, 8 Novembre
Juge: Herb Rosen (USA)
Junior Class: Winners Dog, Best of Winners, BOB,BOG , Najeeb Storm Shi'Rayân (Brady)
Champion Class bitches: Winners Bitch, Best Female, Latiifa Shi'Rayân (Brady)
Najeeb Storm becomes eighth UKC Champion for the breed
Show 3, 9 Novembre
Juge: June Pasco (USA)
Junior Class Dogs: Winners Dog, Best Male, Najeeb Storm Shi'Rayân (Brady)
Champion Class bitches: Winners Bitch, Best of Winners, BOB, BOG, Latiifa Shi'Rayân (Brady)
---
IABCA shows, Purina Farms
Gray Summit, Missouri
1-2 Novembre
Show 1, 1 Novembre
Juge: Ms. Elaine Young (USA)
Dogs
Junior 12-18 months Class: Very Good 1, BOG Puppy, R-BIS Puppy, Shi'Rayân's Nayyir at Mazoe (Chamberlain/de Caprona)
Very Good 1 B, Najeeb Storm Shi'Rayân (Brady/Heyl)
Open Class: Excellent 1 BOB, Group 2, I'Saar Shi'Rayân (de Caprona)
Champion & Veteran Class: Excellent 1, BOB Veteran, R-BIS Veteran Fa'iq Shi'Rayân (de Caprona)
Excellent 1 B, Fahel Shi'Rayân (de Caprona)

Bitches
Open Class: Excellent 1 BOS, Latiifa Shi'Rayân (Brady/Heyl)
Excellent 1 B, BOS Veteran, Dalal Shi'Rayân (de Caprona)
Excellent 1 C, Syringa Happiness at Shi'Rayân (de Caprona)

Competition "Hound" Groupe chiots
Sloughi, Rhodesian Ridgeback, Standard long haired Dachshund

Competition "Hound" Groupe adultes
Rhosesian Ridgeback, Sloughi, Saluki, Miniature Dachshund wire-hair,Miniature Dachshund long hair,
Standard Dachshund long hair, Borzoi, 15" Beagle.

Competition BIS Veteran
Flat coated Retriever, Sloughi, Standard long haired Dachshund, Giant Schnauzer, Alaskan Malamute,
Rottweiler, Siberian Husky, Papillon, Pug, Dogue de Bordeaux, Bouviers.

Competition BIS chiots (3-18 months)
Presa Canario, Papillon, Bulldog, German Shepherd Dog, Sloughi


Show 2, 1 Novembre
SFAA Nationale Elevage 2003
les membres de SFAA venant de tres loin pour presenter leurs Sloughis
des etats de New Jersey, South Carolina, Texas et Iowa
Juge: Ms. Cathy de Bruynes (Canada)
Dogs
Junior 12-18 months Class: Very Good 1, BOG Puppy, Shi'Rayân's Nayyir at Mazoe (Chamberlain/de Caprona)
Very Good 1 B, Najeeb Storm Shi'Rayân (Brady/Heyl)
Open Class: Excellent 1 I'Saar Shi'Rayân (de Caprona)
Champion & Veteran Class: Excellent 1, BISS , BOS Veteran, Fahel Shi'Rayân (de Caprona)
Excellent 1 Fa'iq Shi'Rayân (de Caprona)


Bitches
Open Class: Excellent 1 BOB, BOB Veteran, BOG Dalal Shi'Rayân (de Caprona)
Excellent 1 B, Syringa Happiness at Shi'Rayân (de Caprona)
Excellent 1 C, Latiifa Shi'Rayân (Brady/Heyl)
Nayyir leaves before BIS Puppy Competition

Show 3, 2 Novembre
Juge: Dr.Steve Keating (USA)
Dogs
Junior 12-18 months Class: Very Good 1, BOG Puppy, Shi'Rayân's Nayyir at Mazoe (Chamberlain/de Caprona)
Very Good 1 B, Najeeb Storm Shi'Rayân (Brady/Heyl)
Open Class: Excellent 1 I'Saar Shi'Rayân (de Caprona)
Champion & Veteran Class: Excellent 1,BOB, BOB Veteran,Group 2, BIS Rare Breed Fa'iq Shi'Rayân (de Caprona)
Excellent 1 B, Fahel Shi'Rayân (de Caprona)


Bitches
Open Class: Excellent 1 BOS, Syringa Happiness at Shi'Rayân (de Caprona)
Excellent 1 B, Dalal Shi'Rayân (de Caprona)
Excellent 1 C, Latiifa Shi'Rayân (Brady/Heyl)

Competition BIS Races Rares
Miniature Australian Shepherd, Neapolitan Mastiff, Dogue de Bordeaux, Coton de Tulear, Sloughi,
Perro de Aqua (Spanish Water Dog), Presa Canario, South African Boerboel, Miki