North African Efforts
Morocco

Gathering organized by the Sloughi Club El Wafae in Khenichet, April 26 2009.
by El Kaouter Tachihante, El Wafae Treasurer
Translation Dr. D. de Caprona
© Tachihante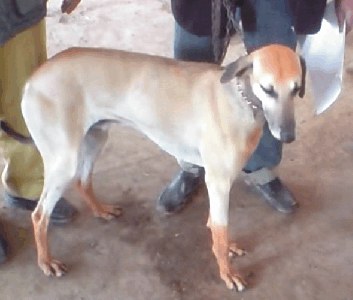 Three Sloughis with traditional Henna markings.© Tachihante
On April 26 2009, a gathering in favor of breeders of the breed "Moroccan Sloughi" took place in Khenichet's Agricultural Center.
The aim of this gathering was to vaccinate against rabies, evaluate the dogs for registration and tattooing for identification.
The el Wafae Association (President: Miloud Belahmar, Treasurer: El Kaouter Tachihante, Secretary: Ahmed Wassif, Vice President: Sellam Chaibi) welcomed the owners of Sloughis (associations El Wafae, Rma, Moussawia, Ikhlass, Old Issa) and the participants of:
1) The Institut d'Agronomie Hassan II of Rabat (Ahmed Nabichen, Hassan el Yakin, Mohamed Birou, Rahma Zrib)
2) Water Affairs and Forestry (Town Souk Larba du Gharb) (Berhli Mustapha, Warak Mustapha)
3) The Société Centrale Canine Marocaine (M.Basciano, judge, Aghtouzoul)
4) The Center for Agricultural Development in Khenichet (Mrabti Khala, Abdelkhalek Chalhi)
5) The Gendarmerie Royale (Abdelfatah Mountassir, Ahmed Moustaphi)
6) The Mairie (Driss Hajam, Saidi Driss)
7) The Armed Forces (Bouhour Mustapha)
54 males et 58 females Sloughi were evaluated and vaccinated against rabies.
54 sloughis were tattooed. Blood samples were taken following the tattooing for studies about the genetic characteristics of this breed.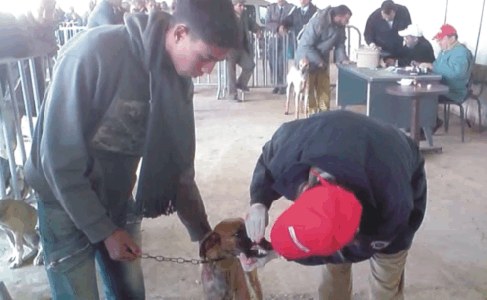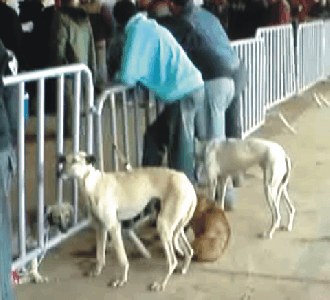 © Tachihante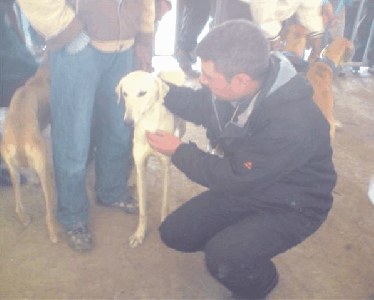 © Tachihante


Members of El Wafae and their Sloughis.© Tachihante