North-African Efforts
Tunisia
The Sloughi, Pride of the Tunisian Cultural Heritage
Raouf Ochi, Tunisia
Text and photos © Raouf Ochi 2010
Translation Dr. Dominique de Caprona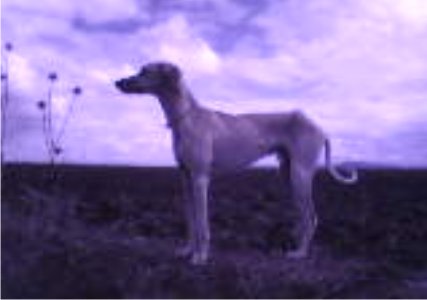 This very handsome purebred dog, with short hair and lop-ears, slender and muscular, proud and noble of character, is a very important element of our cutural heritage. In fact, he furnishes a good part of our oral literature. He is present as a revered being in numerous legends, and our collective imagery makes him a sizeable component of our collective cultural memory, as attested to by the considerable number of proverbs related to him.

Personal experience with the Sloughi:

The Sloughi, my childhood friend: When I was a child, I was always surrounded by Sloughis, puppies and adults. My mother told me later that it was my grandfather (her father) who had a passion for the Sloughi: one day, he had taken all of his wife's jewelry to sell it, and with the money he travelled to the Tunisian South to buy a Sloughi. It is thanks to him that the tradition of hunting with Sloughis was established in our family, and since then it has been transmitted from generation to generation.
As for me, I have taken over after my uncle and I am in the process of transmitting this passion to my son. The first Sloughi who honored with his presence the village of Ochi (3 kms. away from Bou-Salem, a small town in the valley of the Medjerba, in the Northwest of Tunisia) had a pale sand coat with black mask. He had the right to eat at the table with my grandfather.
Once, he went hunting, and while he was going past the farm of a French settler who had gazelles, his Sloughi started to run behind one of them. Then, the settler came out with his gun and started to aim at the Sloughi to shoot him. My grandfather was running with his finger on his gun's trigger warning the settler that if he shot the Sloughi, he would not hesitate to fire at him.

Fortunately there was no legal prosecution against my grandfather thanks to the intervention of a very influential man at the time (an Ochi great property owner).

I relate this incident to confirm a Tunisian proverb which says literally that "the Sloughis live in the heads of the crazy", and my grandfather was one of them, and of course every «sellag» (Sloughi breeder) belongs to this breed of crazy.

The Sloughi, my hunting companion: Before the age of 14, I had always been forbidden to go hunting. I was too young and my bones were still too soft to endure long walks across fields and hills in search of hares, foxes and jackals. Then came the great day when I was allowed to join my uncle, Loubiri, who was the most well known 'sellag' in the Bou-Salem region. I remember that at the time, there was a player in Bou-Salem's football team who was nicknamed "Loubiri's Sloughi", so fast was he when he ran.
The hunting expeditions took me out of the town's enclosed space and opened other horizons I had not thought about: my contact with Nature was born of this wonderful traditional hunting, natural and ecologic. My uncle had taught me everything regarding the art of hunting with Sloughis and I was a passionate student, so passionate that, later on, when I was studying in Germany and when I longed for my country, I was only dreaming of hunting scenes that I had lived during my adolescence.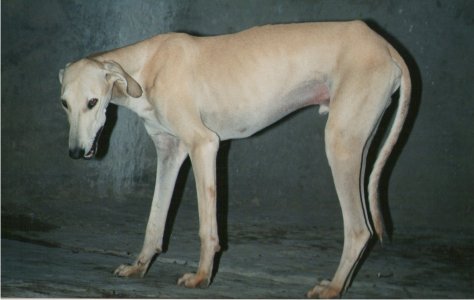 When I came back to the country, I was eager to revive this great passion and bought 2 Sloughis (a male and a female) from a German couple (the Bergman) who lived in Ghardimaou, a little border town in the Northwest of Tunisia, about a good hour drive by car from Bou-Salem.
Once my faithful Sloughis saved me from a boar who was charging towards me when they attacked him at the last minute, deflecting his course at about 15 meters from my body, frozen and paralyzed by fear. What a spectacular assault they did! Without them I was really lost.
The endangered Tunisian Sloughi:
Before, some decades ago, at the time of my grandfather, the Sloughi was the prince of the desert and they abounded in the South of Tunisia. The International Festival in Douz is a cultural event which testifies to a great breeding tradition of the Sloughi and its programs are dedicated in part to hunting with the Sloughi. Unfortunately, the South experiences today a strong decrease in the population of these noble hunting dogs as well as a progressive degradation of this breed.
However, the Tunisian North, and Bou-Salem particularly, gradually became an infallible address for Sloughis: several breeders from the South and others from various regions in the country (Nabeul, Hammamet, Nfidha, Sousse, Mateur, Bizerte…) came and return to buy Sloughis of Bou-Salem to make them the foundation of their breeding.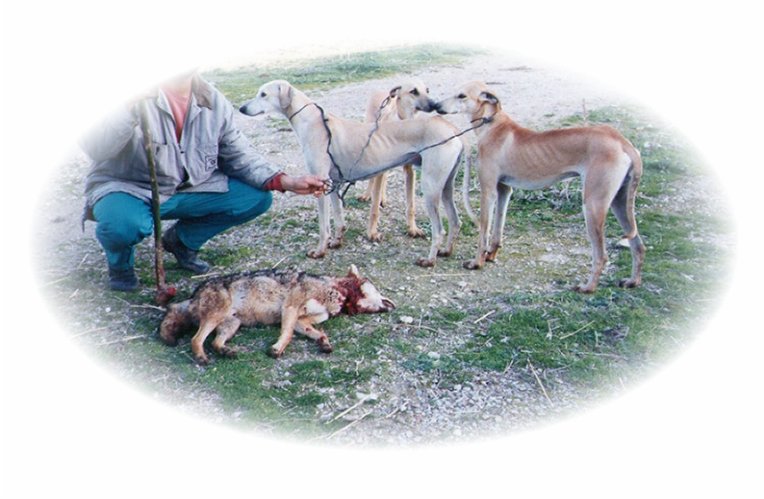 Having said that, it is undeniable that many intruders, who are only interested in the profit that the commerce of Sloughis can bring to them, have contributed to a large extent to the degradation of the breed, particularly in the absence of any registry in the country.
In addition, the change in the way of life of the Nomads is one of the major causes of the gradual disappearance, slow but certain, of the Tunisian Sloughi, particularly as no one seems to care about preserving the breed.
Moreover, another imminent danger risks compromising the authenticity of the Tunisian Sloughi: the importation of foreign Sloughis without ensuring that the breed has not been crossed.
Finally, one can say that the future of the Tunisian Sloughi remains uncertain in spite of the will of a few people or families to preserve the splendid creature which is the Sloughi