VETERAN DOGS
Judge Jack McGuffin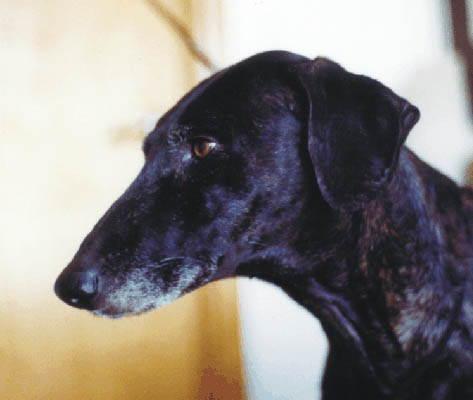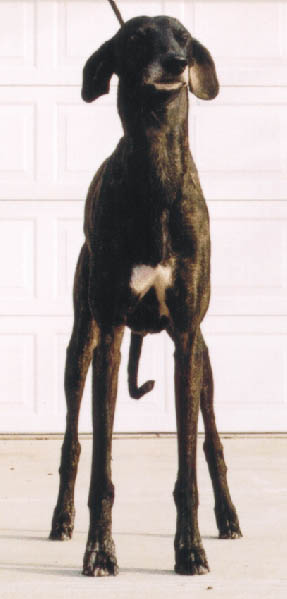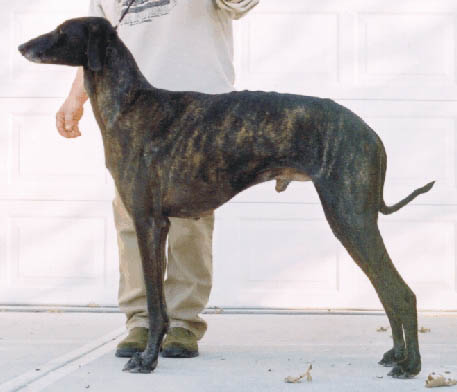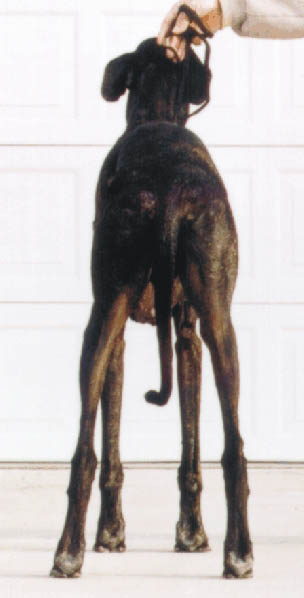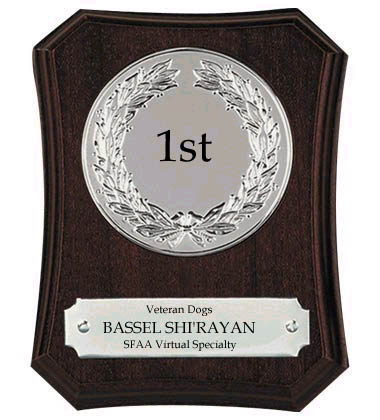 1st Ch. BASSEL SHI'RAYÂN DOB October 9, 1994 (Owned and bred by de Caprona, USA) Although this grand gentleman does not exhibit a head type I most prefer, he's moved to the top position in this wonderful class because I feel that at this age and from the photos available he shows the strongest 'running gear' and overall composition. Beautifully coupled with strong back and loin, with wonderful long legs and very nice feet supporting his impressive depth and a well-muscled body. Spectacular dark pigment. Thoroughly solid appearance from front and rear and moving with apparent ease and lightness. An impressive, masculine dog.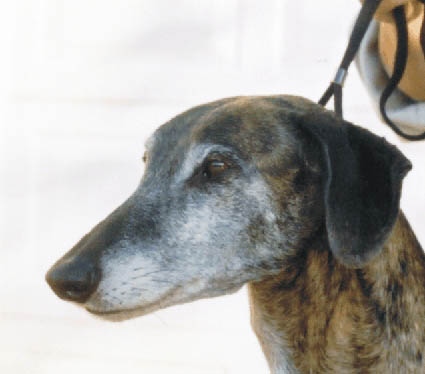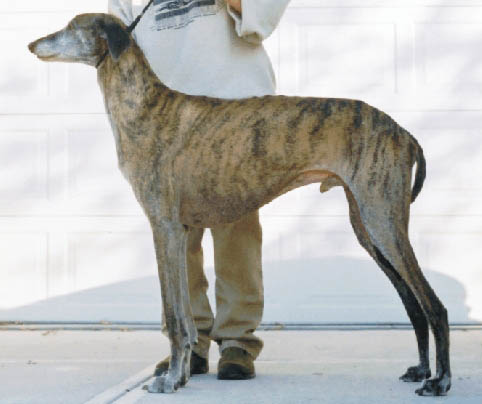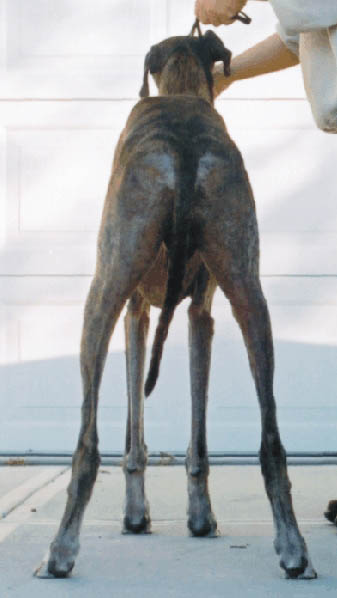 2nd Ch. BATAL SHI'RAYÂN DOB October 9, 1994 (Owned and bred by de Caprona, USA) This beautifully elegant red brindle champion brother of the 1st place dog has very obvious outstanding qualities, some of which I find superior to his brother's; his smoother flowing overall outline being one, as well as his better-chiseled handsome headpiece. Wonderfully coupled and leggy with also very impressive depth. Beautifully made in every regard for a dog of his type. Moves with obvious lightness, collectedness and ease although his head is down a bit in this photo. He is placed behind his brother in this class due only to what I consider the brother's more muscular and solid overall composition.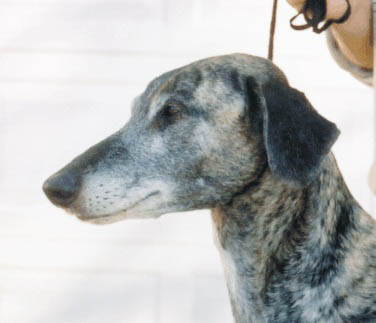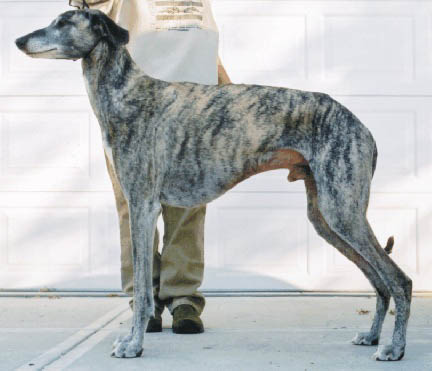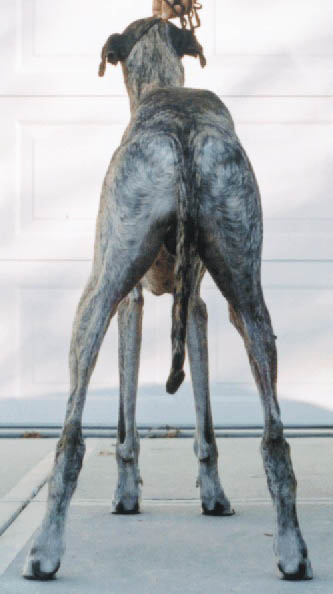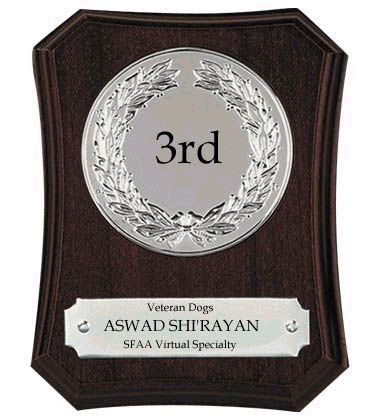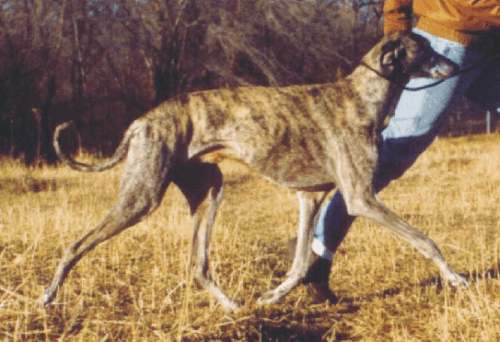 3rd Ch. ASWAD SHI'RAYÂN DOB April 5, 1993 (Owned and bred by de Caprona, USA) To place this talented multi-BIS champion third in his class amounts to sacrilege, but as I'm compelled to evaluate from photos alone here, I would have to beg this fine dog's forgiveness and note that his photos do not do him justice in this instance. Cut from a beautiful overall mold, with so many outstanding qualities, here he is appearing to lack the strength or 'spirit' of hindquarters and front which he's seen in younger days, thereby making his rear appear 'dropped', and from on front somewhat 'pinched' at the elbows. Still moving with obvious pride, ease and grace, his topline here appears also to slope slightly downward. Knowing of the cold Iowa days in winter, I would not dismiss the possibility that he was not extremely pleased about being 'put through his paces' on this particular day to begin with, was rather 'pulled in' on himself, and would rather have been on his warm sofa indoors. A marvelous veteran champion nonetheless, and well deserving of resting on his many laurels.





Welcome Page
About Sloughis - Articles of Interest to All Dog Lovers - About SFAA - The Nubia Memorial Cup - Photo Gallery
SFAA's Code of Ethics - Specialties - Hall of Champions - Sloughi Rescue
SFAA Contacts - Links - Prince of Sloughis Video/fund raisers
- Entrance (web ring page)

These pages,as well as the text and images within them, are copyrighted by SFAA 1995-2004.
They may not be reproduced without written permission from the Sloughi Fanciers Association of America.