HALL OF CHAMPIONS
The Sloughis pictured in these pages represent a fraction of the great champions SFAA members are proud to own and or have bred. We offer the Hall of Champions as a place for visitors to see what a champion Sloughi looks like, as well as a place for proud breeders and owners to showcase the fruits of their labors. Every dog included within this special gallery is either a conformation or a field champion of record, or both, and the variety of events in which these Sloughis excell clearly shows the versatility of the breed.
Click on any of the following
Conformation ~ Coursing~ Racing ~ Tracking ~ Herding ~ Obedience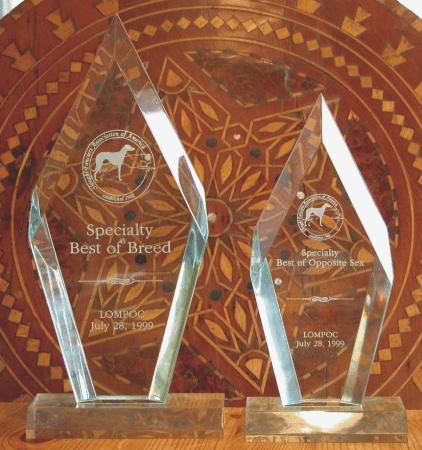 Welcome Page
About Sloughis - Articles of Interest to All Dog Lovers - About SFAA - The Nubia Memorial Cup - Photo Gallery
SFAA breeders - SFAA's Code of Ethics - Specialties - Hall of Champions - Sloughi Rescue
SFAA Contacts - Links - Prince of Sloughis Video/fund raisers - SFAA High Achievers - SFAA Partners
Entrance (web ring page)


These pages,as well as the text and images within them, are copyrighted by SFAA 1995-2010.
They may not be reproduced without written permission from the Sloughi Fanciers Association of America.