The first project associated with ASNAS was the lovely auction organized by the Sloughi Fanciers Association of America (
SFAA
)
in September of 2008 for its Partner Club El Wafae in Morocco. It was the SFAA's special event to celebrate its 20th anniversary.
Several members of SFAA donated their time, their very interesting and beautiful items for the auction and many worldwide
bid generously on them.
Friends of Sloughi owners contributed also with very generous donations in addition to the auction.
This fundraiser was a resounding success raising a very substantial amount of funds.
To separate the accounts of SFAA from the funds for El Wafae, ASNAS was created. The funds raised by this 20th anniversary SFAA auction were exclusively used to provide the Sloughis of the region of Gharb Cherarda Beni Hsen in Morocco with wormers, tick and flea treatments, collars and leashes, and other needed products.

In 2009 ASNAS provided more collars, leashes, wormers and treatments against ticks and fleas to the el Wafae Sloughis.
In 2010, following the repeated floods which ruined the local fields of grains, ASNAS provided help to buy dog food for the Sloughis
in that region.
Further updates under the photos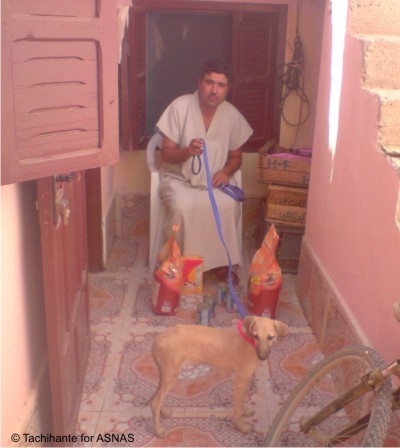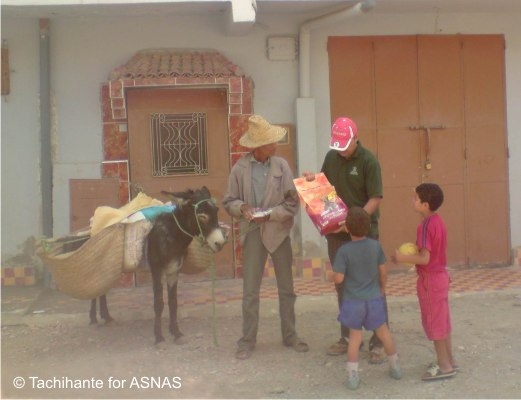 Leash/collar and Food Relief 2010
Since 2008, ASNAS has provided 150 vaccinations against Rabies and Canine diseases.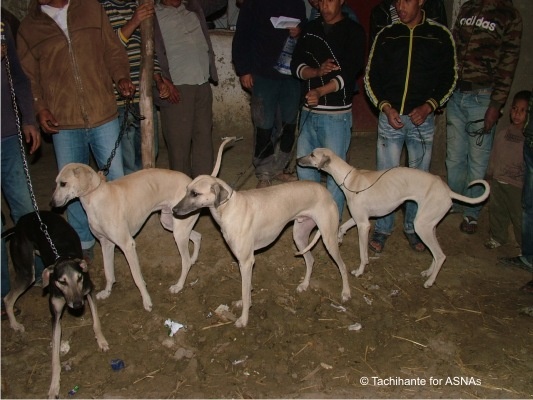 Vaccines and Sloughis at night waiting in line for their vaccinations (100 Sloughis December 2010 January 2011)

Desinfecting before vaccinating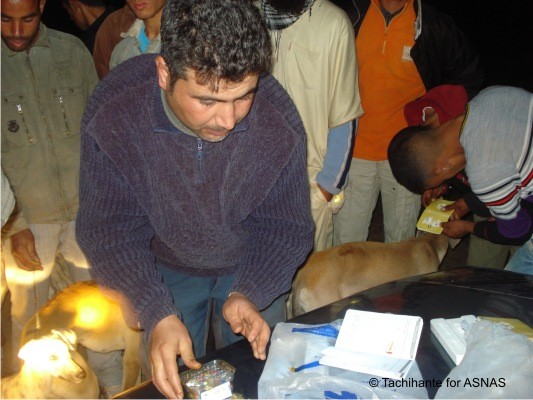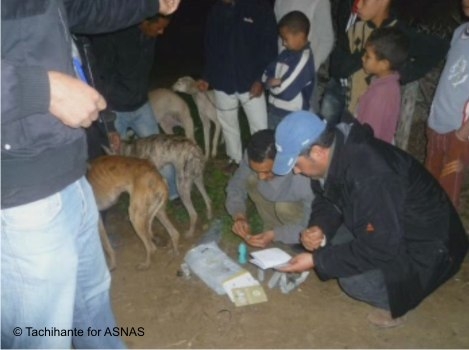 Organizing the vaccination booklets
In August of 2011, ASNAS provided wormers and antibiotics to the Sloughis of the region.
In Fall of 2011 and early 2012, a substantial private donation provided the Sloughis of that region with 84 doses of PetArmor (generic Frontline) for male, young male and female Sloughis.
In February of 2013, ASNAS provides for 60 vaccines against canine diseases, 60 vaccines against rabies, and pain killers for the dogs.

Due to the accident in 2014 that our contact suffered, we are waiting for his recovery to resume the support of this project

In October of 2015, ASNAS provides for 100 vaccines against rabies and 100 against canine diseases, and other veterinary products