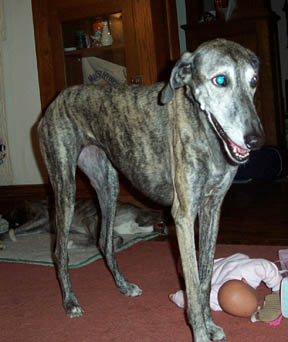 Riba de Moreau.
Riba's owner's life situation changed in the late summer of 2002, and she was no longer able to keep her beloved Sloughis. Because she was uncomfortable going back to the person from whom she got the dogs, she made the loving decision to seek assistance from Sloughi Rescue to find good and permanent homes for them. Riba was ten years old at the time.
After arriving in Sloughi Rescue on 24 September, 2002, Riba was placed in an exceptional permanent home where she spent her nights sleeping on a heated waterbed with a wonderful, gentleman of a doberman to keep her company. Adopted by Lisa, a riding instructor, Riba spent her days at Lisa's side and was able to explore over 150 fenced acres.
Riba experienced kidney failure in June of 2003. After consulting with two veterinarians, Lisa made the difficult decision to have Riba humanely euthanized.

---

Jasmine de Moreau
© Justin Medlock 2003
Jasmine de Moreau and Riba de Moreau belonged to the same person and arrived in Sloughi Rescue together in late September, 2002.
Jasmine was placed permanently with a very loving SFAA member named Emily. Emily and Jasmine shared a very special bond together, and Jasmine thrived under Emily's care.
In late summer 2003, Jasmine developed an odd limp that did not seem to stem from any injury. Emily immediately sought medical attention for Jasmine's leg and learned the very worst news: Jasmine had osteosarcoma, a very aggressive form of bone cancer that would eventually disintegrate her entire femur.
Emily decided to keep Jasmine comfortable for as long as she needed to before having to have her put down. Knowing the end was near, Jasmine enjoyed extra treats, extra attention, and all the pampering she could take before the disease overcame her. Jasmine was put to sleep on August 13, 2003. She died in Emily's arms with another good friend stroking her side.

© Justin Medlock 2003
Sloughi Rescue wishes to extend our heartfelt condolences to Lisa and Emily on the losses of these two grand, old girls.
We know that they found the right homes and were loved heartily in their final homes.
Adopting a rescue dog is never a decision that should be taken lightly. Those who choose to adopt Sloughis that are in or entering their golden years are a very special bunch. To those people we wish to extend our very special thanks.