The Nubia Memorial Cup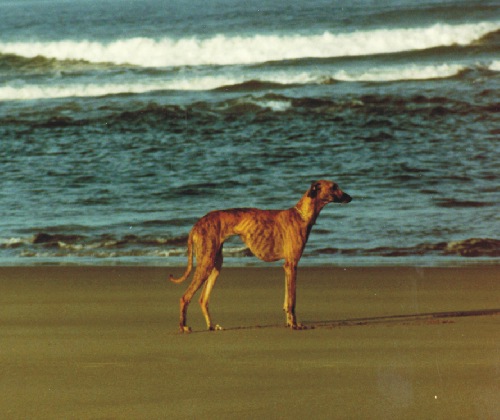 Jaaram Nubia ©Jack McGuffin
The Nubia Memorial Cup is a perpetual trophy presented annually by the Sloughi Fanciers Association of America to the Sloughi dog or bitch which has most shown itself to excel in the field during a given year. This determination is made by a tally of all points earned in any combination of sanctioned field events.
The first Nubia Cup was presented in 1995 and was donated by Jack McGuffin in memory of his lovely red brindle Sloughia, Jaaram Nubia. Nubia was one of a litter of twelve, sired by the handsome Dutch-bred, Farhan of Mumtaz-i-Javanadmi out of the French-bred bitch, Tounsia Kahloul de la Treille. Nubia became somewhat of a Ďposter girlí for the breed when she became the first Sloughi to participate in the premiere Rare Breed Exhibition of the Kennel Club of Beverly Hills in 1987. She was of course nearly always the sole exhibit for the breed in matches and shows in those early days, but did gather her share of Group wins at the limited number of events available to her. But the show ring was not Nubiaís passion. Her delight was out in the open desert of the Mojave, hunting with her packmates. She loved nothing more than to go for an early morning expedition with some of her buddies, working the desert in her effortless, light-footed trot, back and forth out in front of her master, until she might have her desires met by kicking up a strong desert jack to chase.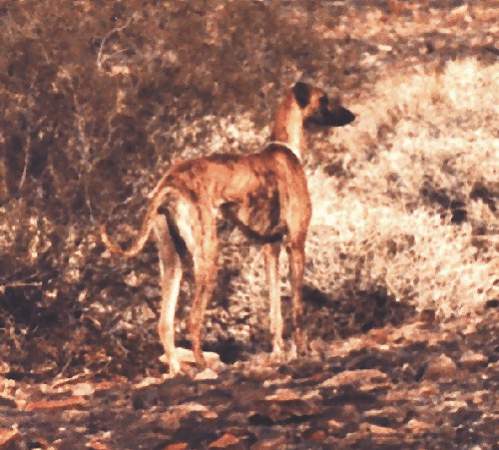 ©Jack McGuffin
Her passions for the chase aside, Nubia was a very stoic, elegantly built bitch with a soft and gentle nature. She chose her friends discriminatingly, and spent most of her time at home quietly perched in Ďherí corner of the sofa, surveying contentedly whatever might be happening in the household. Her additional vocation as a watch dog of her domain, despite her generally soft nature, she also took quite seriously. Several times each day she found it necessary to perk her always attentive ears to a somehow peculiar sound outdoors and trot hurriedly through the dog door to investigate what might require her services. Horses going by with their riders she found of great interest and would Ďyodelí to them. But strange dogs who might be roaming by were especially not to be tolerated and she invariably let them know beyond question when they had come too close to her packís territory, as she did with strangers who had not been given the sanction of being invited by her master. She was a beautifully devoted companion. She was a beloved credit to her breed.
By interesting coincidence, all winners of the Nubia Memorial Cup to date have been related to Nubia, being cousins through a sister of Nubiaís dam, Tounsia, by the name of Tililane Kahloul de la Treille, maternal great-grandam of the Ď95, Ď96, and Ď97 Cup winners. These dogs have continued to exemplify the qualities desired in a well-rounded Sloughi and two of the winners are also multi-International and World conformation Champions, an additional testament to their sound repertoire.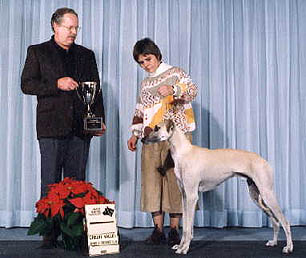 The first ever Nubia Memorial Cup Winner
Amir Shi'Ray'n
© 1995 Alex Smith
The Nubia Memorial Cup was established in the hope that Sloughi fanciers in the future will continue to pursue activities which might help insure that the dogs retain their natural athletic abilities and characteristics. The Sloughi was designed to be, first and foremost, a dog capable of performing intended functions. Of this we must not lose sight.
Jack McGuffin
Lake Elsinore, 1995
1995 Amir Shi'Ray

'

n
1996 A'Ssissa Shi'Ray

'

n
1997 Aswad Shi'Ray

'

n
1998 Fahel Shi'Ray

'

n
1999 Fahel Shi'Ray

'

n
2000 Bouthayna Shi'Ray

'

n
2001 Fahel Shi'Ray

'

n
2002 Fahel Shi'Ray

'

n
2003 Fahel Shi'Ray

'

n
2004 Fahel Shi'Ray

'

n
2005 I'Saar Shi'Ray

'

n
2006 Najeeba Shi'Ray

'

n
2007 O'Dah Shi'Ray

'

n
2008 O'Dah Shi'Ray

'

n
2009 O'Dah Shi'Ray

'

n
2010 Amal
2011 Sameer Shi'Ray

'

n
2012 Sameer Shi'Ray

'

n
2013 Sameer Shi'Ray

'

n
2014 V'Nawal Shi'Ray

'

n
2015 Bensekrane's Saff at Shi'Ray

'

n
2016 Ulfah Shi'Ray

'

n
2017 Wahid Shi'Ray

'

n
2018 Wahid Shi'Ray'n

The plaques are full of names and the trophy is now retired