Sixth National Specialty of the Sloughi Fanciers Association of America
With their owners traveling from far away from the states of New Jersey, Iowa, South Carolina and Texas
to present and race their Sloughis in Missouri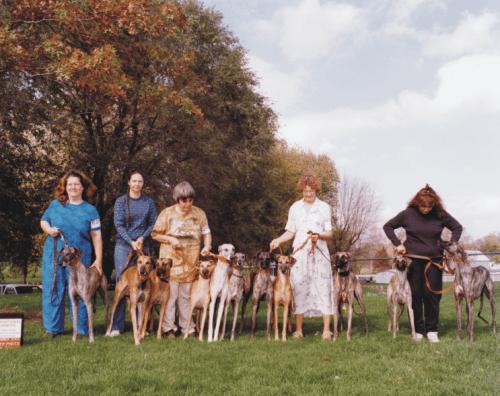 © Bill Meyer 2003
The 5 iron ladies who put up the event and the entry
from left to right: Emily Danskin, Lisa Marrone, Dominique de Caprona, Anne Chamberlain and Ellen Brady with
Fahel Shi'Rayan, I'Saar Shi'Rayan, Hannan Shi'Rayan, Rym Cassandra, Fa'iq Shi'Rayan, Ghamira Shi'Rayan, Syringa Happiness, Dalal Shi'Rayan,
Shi'Rayan's Nayyir at Mazoe, Latiifa Shi'Rayan, and Najeeb Storm Shi'Rayan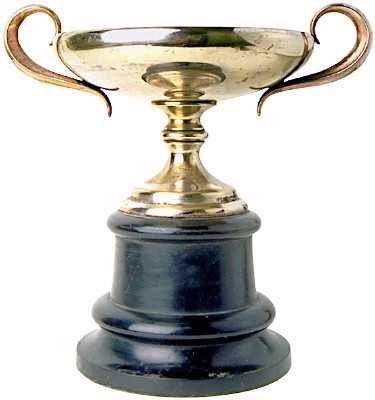 Virtual Iron Lady award donated by Jack McGuffin to the 5 ladies above

---
The First All Breeds Sprint Racing (LGRA) at a Sloughi Specialty in the Western Hemisphere
Hosted by the Sloughi Fanciers Association of America
Sponsored by COBRA
Friday November 1 2003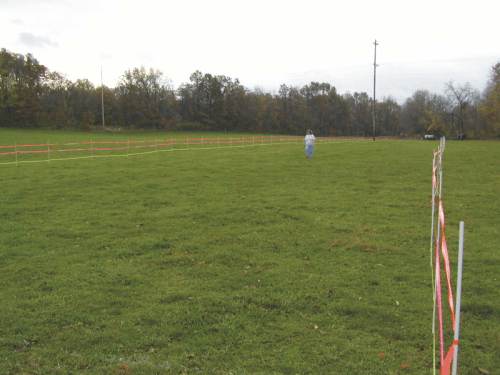 Emily Danskin, a final check to the track set-up © Ellen Brady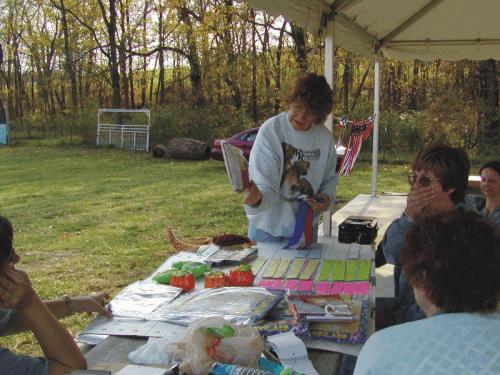 The beautiful rosettes & Ann Chamberlain, race secretary ~ Ann with her score board distributing trophies
Both pictures © Ellen Brady
8 starters
High Score in meet: 1 I'Saar Shi'Rayan, ORC, GRC (de Caprona)
High Score Best of Opposite sex: 2 Syringa Happiness at Shi'Rayan ( de Caprona)
High Score Open & First Time entered 3 Najeeb Storm Shi'Rayan (Brady)
High score Open BOS 4 Latiifa Shi'Rayan (Brady)
---
The 5th SFAA National Specialty Show
Hosted by the International All Breeds Canine Association
integrated in the IABCA shows that weekend
Purina Farms, Gray Summit, Missouri, November 3 2001
Under the pounding rain!
Judge: Cathy de Bruynes (Canada)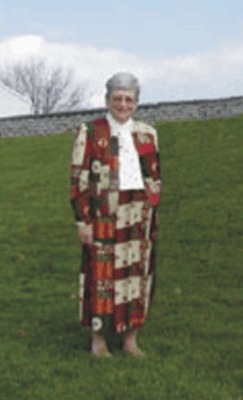 © Emily Danskin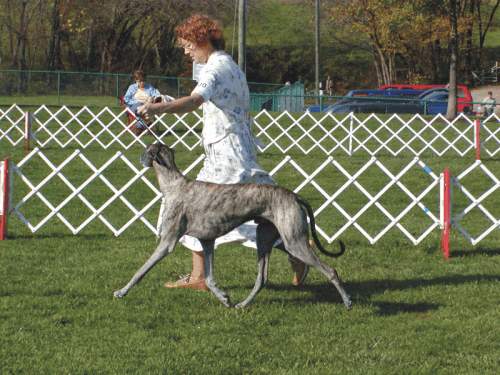 Ann Chamberlain gaiting BISS Fahel Shi'Rayan © Emily Danskin
BISS: Ch. Fahel Shi'Rayan, SORC, SGRC4, FCC (de Caprona) handler Anne Chamberlain
BOB, BOS, Best Veteran: Ch. Dalal Shi'Rayan, JOR, GRC ( de Caprona) 9 years old (wins then BOG)
Best Junior: Shi'Rayan's Nayyir at Mazoe (Chamberlain/ de Caprona)
Because of the rain and the cold, few pictures of the specialty itself could be taken, but the same dogs were entered in the other 2 shows
and some of the pictures shows them under better weather conditions.
On Saturday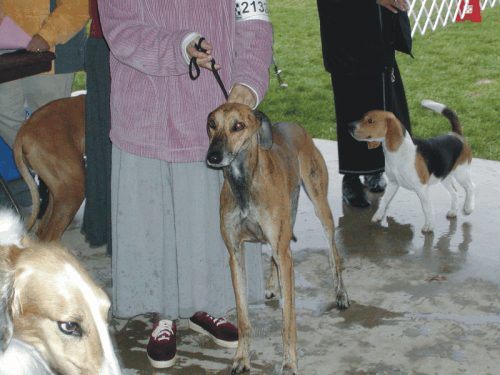 waiting to be judged on Saturday.....I'Saar in the group ring (show 1), wet clothes and wet feet on the handler!!
© Ellen Brady and © Emily Danskin
On Sunday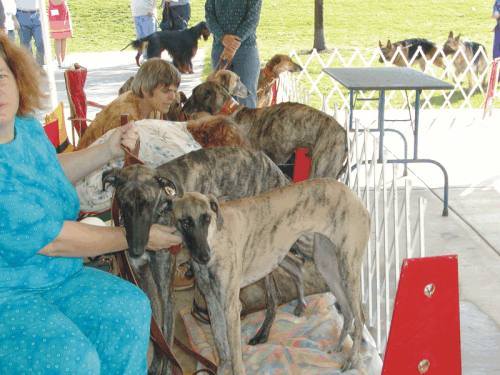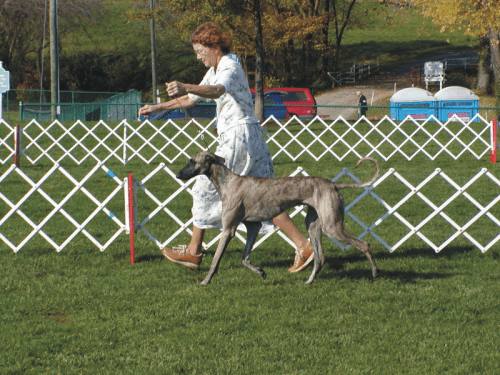 Some of the entry , Latiifa and Najeeb Storm in front ~ Anne Chamberlain with Tyger (Shi'Rayan's Nayyir at Mazoe)
© Ellen Brady and © Emily Danskin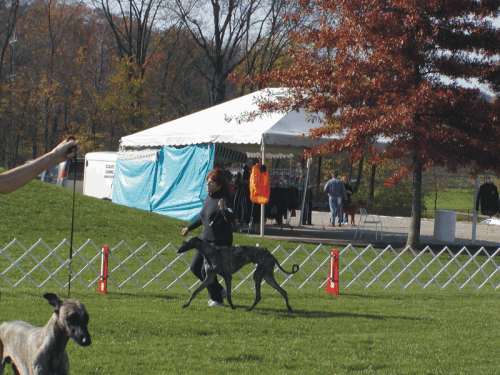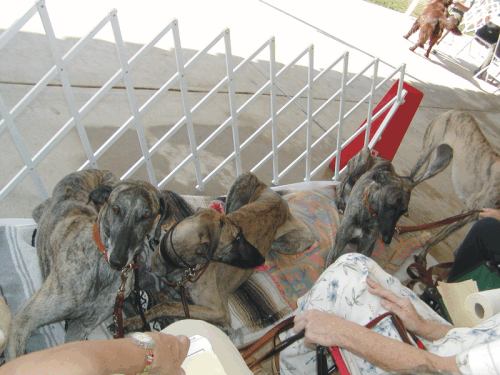 Ellen Brady and Storm (Najeeb Storm Shi'Rayan) ~ Fahel Shi'Rayan and his 2 sons, Nayyir (Tyger) and Najeeb (Storm)
Both pictures © Emily Danskin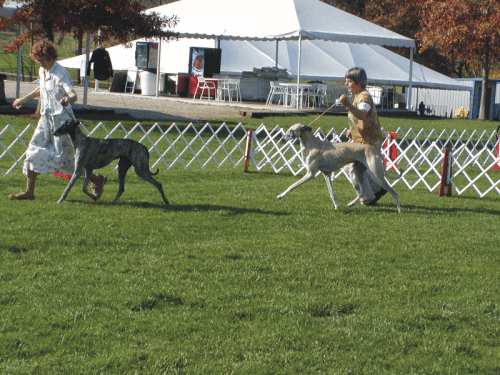 Champions and Veteran dogs competition (Dr.Keating is judge), Anne Chamberlain with Fahel Shi'Rayan, Dominique de Caprona with Fa'iq Shi'Rayan
Both pictures © Emily Danskin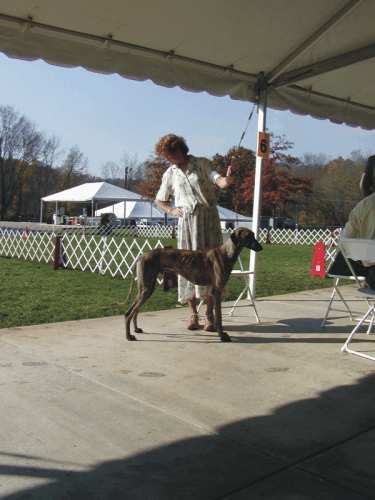 Anne with Tyger ~ Dominique with I'Saar
Both pictures © Emily Danskin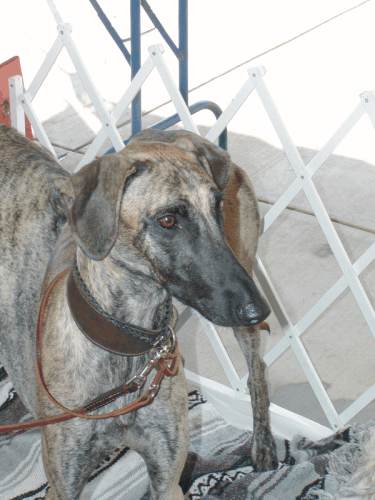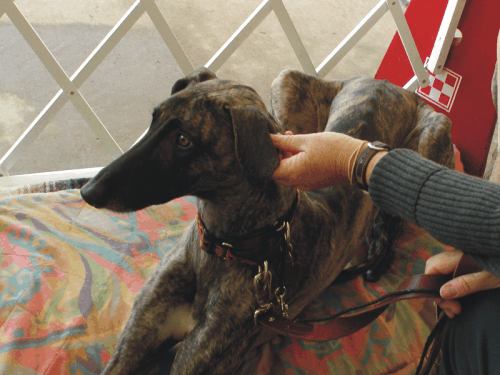 The young kids,Tyger and Storm © Emily Danskin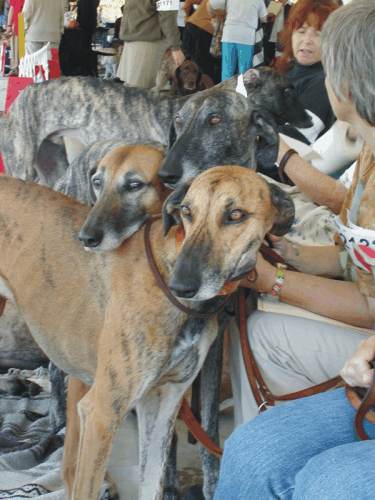 The oldest, Dalal Shi'Rayan, on I'Saar's back, Fahel in between
© Emily Danskin