SLOUGHI BOOK
Author M.-Dominique Crapon de Caprona, Ph.D.
Publisher: Kennel Club Books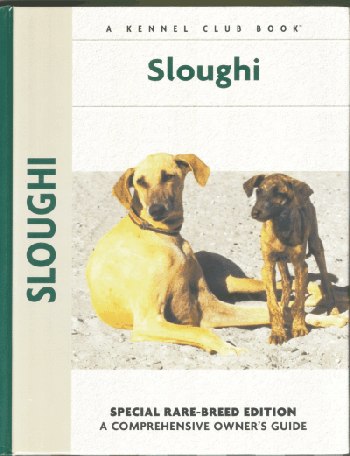 In depth early history of the breed in Europe and the USA
Origins of the breed
Description of the breed and relationship to other African breeds and other Sighthound breeds
Health and care chapters
Many photos in color
Purchase price: $24.95 + 3.85 shipping
Proceeds of the sales of this book go to supporting SFAA's activities for the breed, including rescue.
Please order from the author
Please write a personal check addressed to S.F.A.A., and send it to PO Box 345, Crescent, Iowa 51526-0345
or pay per Paypal
Thank you for your support

For questions about this website please contact the webmaster
Welcome Page
About Sloughis - Articles of Interest to All Dog Lovers - About SFAA - The Nubia Memorial Cup - Photo Gallery
SFAA breeders - SFAA's Code of Ethics - Specialties - Hall of Champions - Sloughi Rescue
SFAA Contacts - Links - Prince of Sloughis Video/fund raisers - SFAA High Achievers - SFAA Partners
Entrance (web ring page)


These pages,as well as the text and images within them, are copyrighted by SFAA 1995-2004.
They may not be reproduced without written permission from the Sloughi Fanciers Association of America.