THE DOGS WE TOOK BACK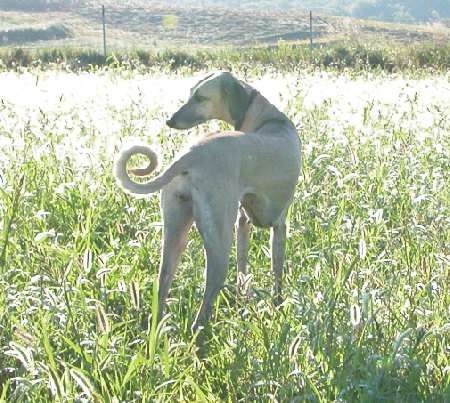 Hayifa © de Caprona
Hayifa Shi'Rayan
Hayifa was in California when we heard from the owner that she had had an accident and needed a kidney removed.
We could never locate the owner in any of the hospitals and it seems the story was an invention.
A frightened puppy flew back to us.
She went on to win BOS at the largest specialty for the breed in Lompoc 1999 under judge Bo Bengtson
and finished her Oval Racing Champion and her Superior Gazehound Racing Champion title with us.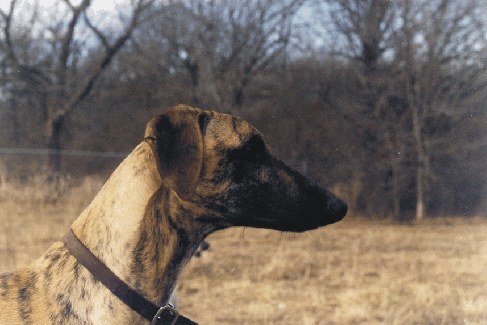 La'eb © de Caprona
La'eb Shi'Rayan
La'eb was picked up by Bernd at the owners place in California and flew back with him.
While he was driving in San Francisco, Bernd narrowly escaped death
when a driver on drugs slamed his van in the back, while he was parked on the side searching for directions
and made him skid across several lanes of busy traffic.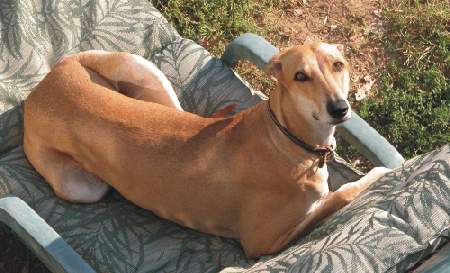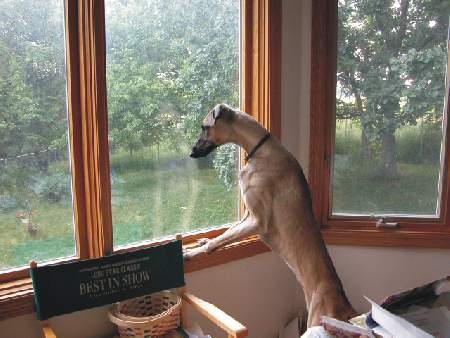 Ibtsama ~ Negma © de Caprona
Ibtsama Haifa Shi'Rayan and Negma Shi'Rayan
were picked up at Alan Segal's place in California by Bernd and flew back to us with him.
Alan Segal was very helpful in solving the local problems with these bitches' family.
Ibtsama had become IABCA Champion with her first owner,
and dominated the field of lure coursing for several years with us.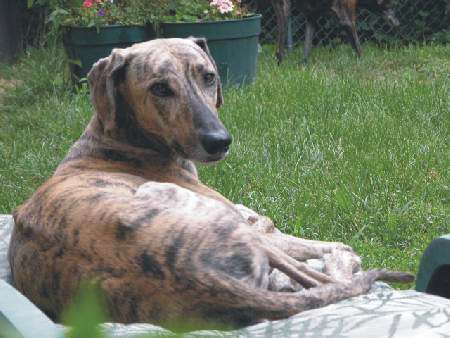 Mujiir © de Caprona
Mujiir Shi'Rayan
was driven back to us from Tennessee by the owner's father.
Mujiir needed physical and mental rehabilitation to get back to his previous self.
With us, he became IABCA Champion, Gazehound Racing Champion
and is working now towards a field Champion title.
---
THE DOGS WE RE-HOMED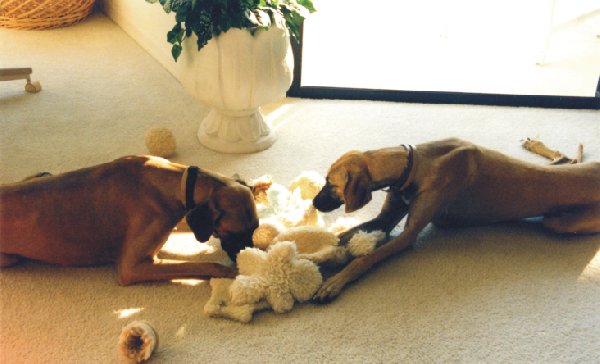 Bachir and Dania © Lehrman
Bachir Shi'Rayan
Bachir could not deal with the conditions in which he was kept by his first owner.
We asked that he be returned.
Bachir then went to live with the Lehrmans, his second home was his paradise
that he shared many years with Dania Shi'Rayan.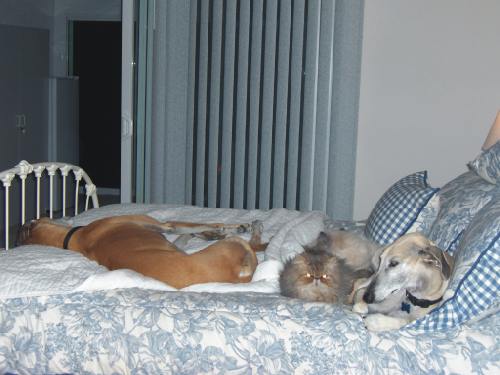 Farah (right) with friends © Segal
Farah Shi'Rayan
was discovered together with 2 Italian Greyhounds in their owner's home, one week after she had died.
She was relinquished to a local shelter, in spite of our contract, with the 2 IGs by the owner's mother
and would have been put to sleep had not someone contacted Alan Segal of South Bay Pure Bred Rescue in the area.
He was told "a Greyhound and 2 Whippets need help".
We were alerted by the breeder of the two IGs, and were given Alan's phone number.
Because it was August, no plane would fly her back because of the high temperatures,
and Alan developped a bond with her. In the end she stayed in California
where she works with Janet as a Therapy Dog brightening many people's lives.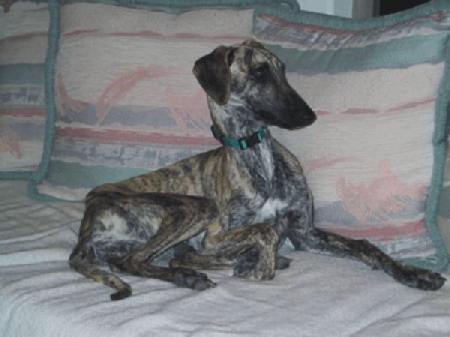 Lathmah © Helm
Lathmah Shi'Rayan
was living with La'eb and was rehomed with a wonderful loving family in Arizona.
She now shares her life with the Helms, their child and Khafia Shi'Rayan.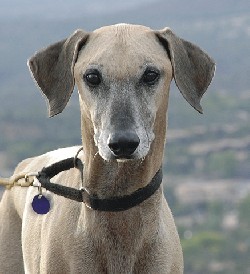 © Danskin
Ghasak Shi'Rayan (Sheik)
Sheik was living in Florida with a couple who adored him.
But he developped over the years a terrible fright of storms that nothing would control.
The owners made then the decision that it would be better for Sheik to live in a place with calmer weather.
We would have gladly taken him back, had it not been for the fact that we also live in a region
known for the violence of its storms and the frequent tornado warnings we get each year.
Emily Danskin welcomed Sheik when he was driven from Florida to Arizona by his owners
and with her help, he adjusted very well to his new situation.
You can read his story here


Home - Champions - Puppies- Racers/coursers - Africans - Youngsters - Veterans
Syringa - Sheik el Arab - La'Jahibbu - Ymauville - Trip Africa
10 years - 40 years - News