THE SHEIK EL ARAB "B" LITTER
Once again in May, 9 puppies were born (May 11), 6 girls and 3 boys, from the first successful artificial insemination with frozen semen for the breed in Germany. This achievement is the result of a joint project between SFAA members Dominique de Caprona (Shi'Rayân, USA) and Patricia Lauer (Sheik el Arab, Germany)
Congratulations Aljana ! and best wishes for many years of great companionship to their owners in Spain, Germany, the Netherlands and the USA.

---

Photos of Tarfa © Dominique de Caprona, of Aljana © Patricia Lauer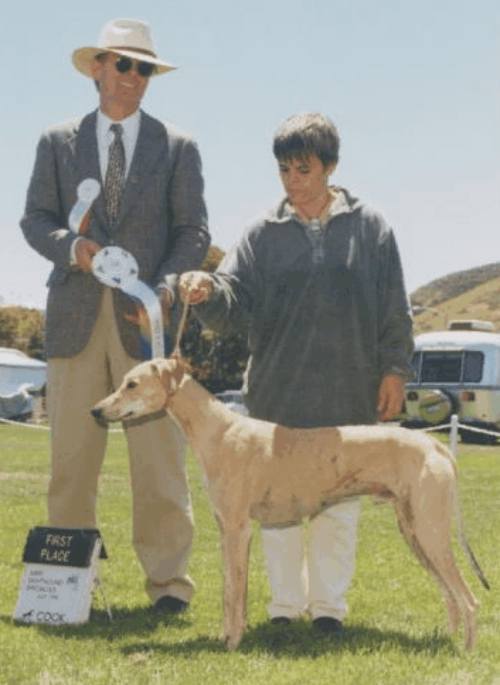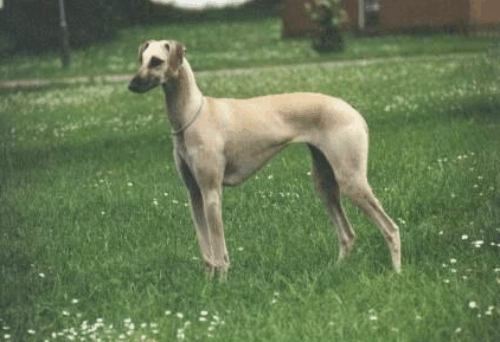 Photos of Tarfa © Cook 1999, of Aljana © Patricia Lauer
Parents: Tarfa (left) and Multi Champion Aljana Sheik el Arab (right)
Aljana was the # 1 Show Sloughia & # 3 Coursing Sloughi in Germany in 1999.
For her impressive list of wins please visit Sheik el Arab
Tarfa was imported from Tunisia by Shi'Rayân, and won Best African Bred in Specialty Show & Reserve Winners Dog at the SFAA National Specialty, special event of the Western Sighthound Combined Specialties show, Lompoc 1999, under judge Bo Bengtson.
Tarfa is the sire of the I litter at ShiRayân. SBIS IABCA Jr.Ch. Shi'Rayân's Ibriiz at Mystic Ridge, coursing in Illinois, IABCA Baby Ch. I'Saar Shi'Rayân, IABCA Jr.Ch. Ibtsama Haifa Shi'Rayân coursing & racing in California, Shi'Rayân's Iswaar at Mazoe, first Herding Instinct certified Sloughi and racing in New Jersey

---
Click here to see 3-4 weeks old puppy pictures
Click here to see 6 weeks old puppy pictures
Click here to see the Sheik el Arab "B" litter growing up

For more information contact Dominique Crapon de Caprona or Patricia Lauer
Home - Champions - Puppies - Racers/coursers - Africans - Youngsters - Veterans
Syringa - Sheik el Arab - La'Jahibbu - Ymauville - Trip Africa
10 years - 40 years - News