News 2010
The year 2010 begins with SFAA's president Dr. Bernd Fritzsch
being honored for his outstanding scientific research
Dr. Fritzsch receives the distinction of Fellow of the American Association for the Advancement of Science 2009
AAAS is the world's largest general scientific society and publisher of the journal Science.
click here to read more
Heartfelt congratulations from all SFAA members

News 2009
There is a new website on the web, a special chapter of the German magazine online Sloughi World
dedicated to Preserving the Sloughi and it is regularly updated with relevant information about the breed
All articles are in English, some are translated in French and German
Click here for details

---
Final Standings in American Racing and Coursing 2009
# 1 in Coursing (ASFA): Amal, GRC
# 1 in Oval Racing (NOTRA): Amal, GRC and Ch. O'Dah Shi'Rayan, ORC, SGRC 5
# 1 in Sprint Racing (LGRA): Ch. O'Dah Shi'Rayan, ORC, SGRC 5
---
The Nubia Memorial Cup winner 2009
is Ch. O'Dah Shi'Rayan, ORC, SGRC5

---

Ch. Najeeba Shi'Rayan becomes the first Sloughi bitch
in the History of the breed to finish a
Superior Gazehound Racing Champion II in American Sprint Racing
SSARA, Crescent, Iowa, November 29
---
At the IABCA shows in Gray Summit, Missouri, October 31-November 1
Rabah Shi'Rayan becomes International Champion
wins Group 3 and 2 Group 4
2 Best Bred By Exhibitor Group 1
---
At one IABCA show in Gray Summit, Missouri, and 2 IABCA shows in Hutchinson, Minnesota
Elegantin Laavatomu becomes International Champion
wins 1 Group 2 and 2 Group 4 in a very competitive Hound Group!

Amal becomes the first Moroccan Sloughi with an American Racing title,
and the 40th SFAA Sloughi Gazehound Racing Champion in Sprint Racing.
Northland Amateur Racing Club, Minnesota, August 2009
---
Ch. O'Dah Shi'Rayan becomes the 5th Sighthound Superior Gazehound Racing Champion 5 in Sprint Racing,
and the second SFAA Sloughi to do so
Shi'Rayan Sloughis Amateur Racing Association,Iowa 2009

News 2008
The second breed book only about the Sloughi with original chapters by the author is published
The Sloughi 1852-1952
Click here for more information
---

SFAA celebrates its 20th anniversary with a fundraiser
All proceeds will be used to support the traditional breeding of Sloughis in the region of
with much needed medical supplies, vaccines, wormers, antibiotics, tick and flea treatments.
Preview of the auction items: September 27
Official Auction September 28-October 8

October 8, the auction has ended.
The members of SFAA are touched by the generosity of those who donated such beautiful and fun items and by those who bid on them. Thanks to all of you, many Sloughis of the Gharb Cherarda Beni Hsen region in Morocco will benefit with vaccines and medications. This result of our SFAA Anniversary auction truly exemplifies the spirit of our organization. We truly care about our fantastic breed, its continued survival with responsible breeding and helping Sloughis in need. Hopefully, with everyone's efforts, the Sloughi, in its original form will be around for generations to come and for all to enjoy. Thanks Again.
Ellen Brady, SFAA Secretary.
---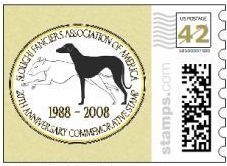 The stamp commemorating 20 years of SFAA is issued and can be ordered through Ellen Brady. Deadline for ordering is December 1 2008.