NEWS 2009
News 2003
News 2004
News 2005
News 2006
News 2007
News 2008

---
A new section is created for the Preservation of the North African Sloughi
in Sloughi World
Final Standings in American Racing and Coursing 2009
# 1 in Coursing (ASFA): Amal, GRC
# 1 in Oval Racing (NOTRA): Amal, GRC and Ch. O'Dah Shi'Rayan, ORC, SGRC 5
# 1 in Sprint Racing (LGRA): Ch. O'Dah Shi'Rayan, ORC, SGRC 5

---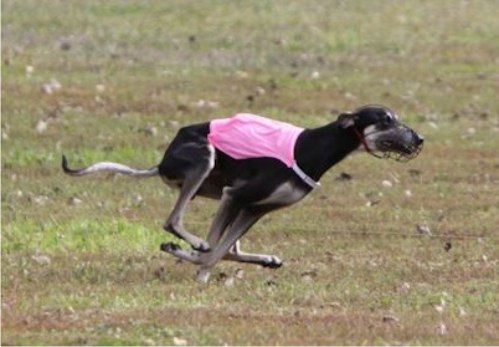 © Joe Stewart, 2009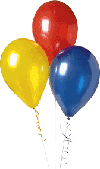 The Nubia Memorial Cup winner 2009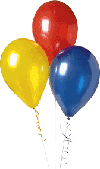 is Ch. O'Dah Shi'Rayan, ORC, SGRC5
---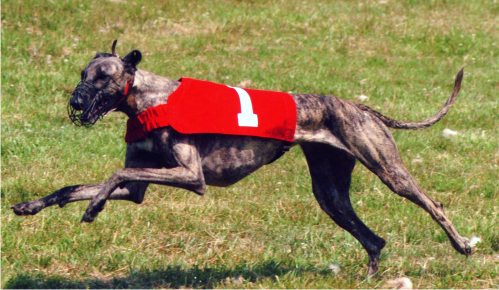 © Shot on Site
Ch. Najeeba Shi'Rayan becomes the first Sloughi bitch
in the History of the breed to finish a
Superior Gazehound Racing Champion II in American Sprint Racing
SSARA, Crescent, Iowa, November 29

---

© de Caprona 2008
At the IABCA shows in Gray Summit, Missouri, October 31-November 1
Rabah Shi'Rayan becomes International Champion
wins Group 3 and 2 Group 4
2 Best Bred By Exhibitor Group 1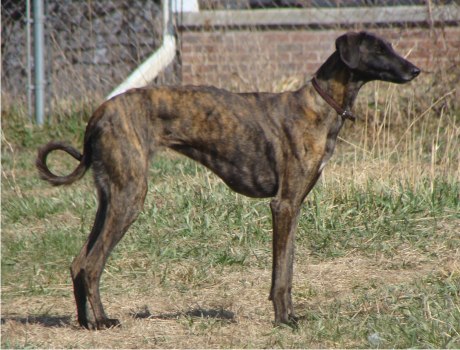 © de Caprona 2009
At one IABCA show in Gray Summit, Missouri, and 2 IABCA shows in Hutchinson, Minnesota
Elegantin Laavatomu becomes International Champion
wins 1 Group 2 and 2 Group 4 in a very competitive Hound Group!

---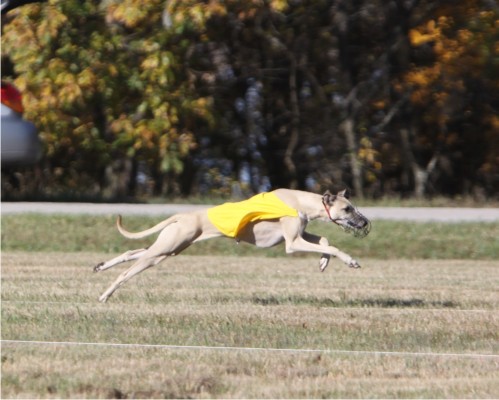 Amal coursing in Kansas
© Joe Stewart 2009

Amal wins the highest score of 308 points of all breeds at the event
Nebraska Coursing Association, Omaha, Nebraska October 31

November 1, she wins with a top score of 307 points, a total score shared with a Whippet
and in the dogs running singles with Saber Shi'Rayan and another Whippet

---
O'DahShi'Rayan finishes the 5th title of Superior Gazehound Racing Champion 5
in American Sprint Racing
joining 1 other Sloughi, Fahel Shi'Rayan SGRC6
2 Greyhounds and 1 Italian Greyhound.
SSARA, Crescent, Iowa, October10
---
Amal is the first Moroccan Sloughi to participate in an American lure coursing event,
finishing the day in great style with one of the 3 top scores of the day
(287 points, Amal and 2 Whippets)
Heartland Coursing Association, Kansas, September 27
---
Northland Amateur Racing Club, Cambridge, Minnesota,
LGRA (Sprint Racing) August 28-29-30
Amal becomes the first Moroccan Sloughi to win a title in American Racing.
She is the 40th Sloughi Gazehound Racing Champion

Phareeda Shi'Rayan, GRC © 2007 de Caprona
Phareeda Shi'Rayan, GRC wins the Northland Sprint Challenge
after 3 days of very competitive racing, one point ahead of her dad O'Dah Shi'Rayan SGRC4.
O'Dah Shi'Rayan is Best of Opposite Sex and Best Veteran at that event.
---
Northland Amateur Racing Club, Kings Ranch, Ramsey, Minnesota
NOTRA (Oval Racing) August 15-16
O'Dah Shi 'Rayan finishes the 16th Oval Racing Champion title for the breed
Amal, our fantastic little racer from Morocco, wins both events!!!

Amal © 2008 de Caprona
---
IABCA shows, St Helens, Oregon
June 13-14
Shi'Rayan's Nayyir at Mazoe
wins 3 Best of Group and 1 Best in Show
1 group 2 and 1 Reserve Best in Show
Owners: Ann Chamberlain & Dr. Dominique de Caprona
Handler: Ann Chamberlain
Breeder: Dr. Dominique de Caprona
---
In Offenbach, Germany, May 27-28,
Brigitte Noack and her 12 years old Ghada Shi'Rayan
participate in an event in which dogs older than 10 are evaluated for their fitness.
3 judges award the win to Ghada who went home with her favorite treat: a bag of lamb tripe.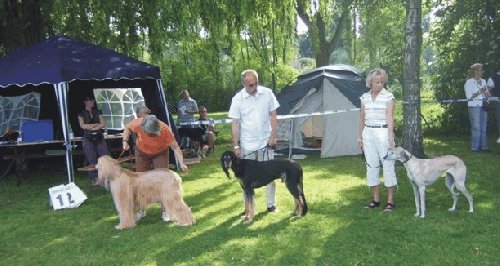 Ghada with part of her competition © Noack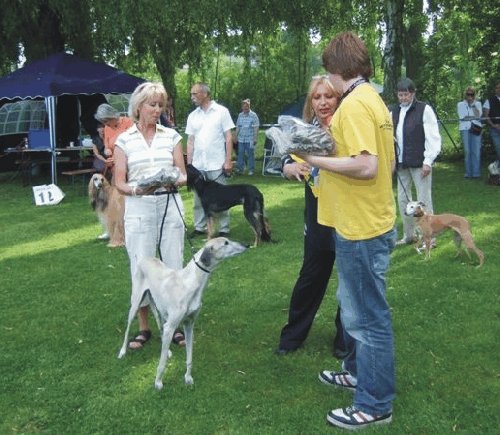 Ghada looking up to the treats! © Noack

---
ASFA International Invitational, Boswell, Oklahoma, May 3
Ch.O'Dah Shi'Rayan wins the Bouthayna Memorial Trophy 2009
(for the second time)
O'Dah is Bouthayna's grandson
---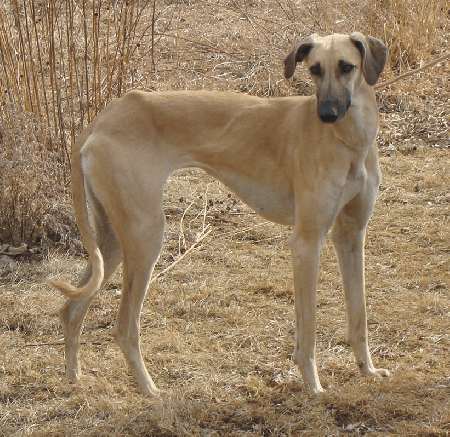 © de Caprona
Suhaymah Shi'Rayan becomes the 39th Sloughi Gazehound Racing Champion
in American Sprint Racing
Shi'Rayan Sloughis Amateur Racing Association
April 26 2009
---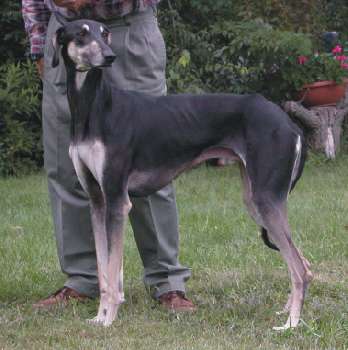 © de Caprona
NUBIA MEMORIAL CUP WINNER 2008
# 1 Sloughi in Amateur Sprint Racing 2008
# 5 all breeds
Ch.O'Dah Shi'Rayan, SGRC3

SSARA LGRA race meet, February 21 2009 (Sprint Racing)
Ch.O'Dah Shi'Rayan, becomes the third Sloughi
Superior Gazehound Racing Champion IV
the 11th Sighthound in the USA to do so
(3 Sloughis, 2 Greyhounds, 2 Basenjis, 1 Saluki, 3 Italian Greyhounds)
The other 2 Sloughis are Fahel Shi'Rayan and I'Saar Shi'Rayan

© de Caprona
# 1 Sloughi in Oval Racing 2008
his sister Omneya Shi'Rayan, SGRC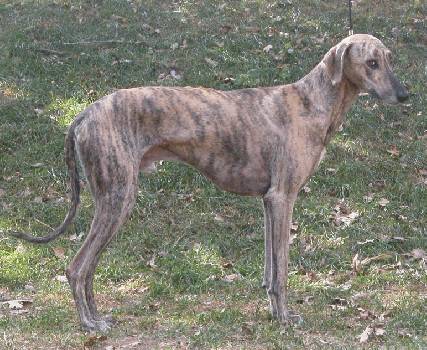 © de Caprona
#1 Sloughi in ASFA Lure Coursing 2008
Ch. Mujiir Shi'Rayan, GRC

---
Home - Champions - Puppies- Racers/coursers - Africans - Youngsters - Veterans
Syringa - Sheik el Arab - La'Jahibbu-- Ymauville - Trip Africa
10 years - 40 years - News